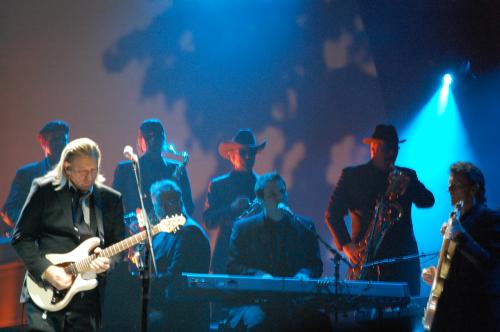 Most classic rockers have a hard time putting their notorious pasts behind them. Not the Eagles. These guys have adapted to their lives of luxury quite easily. Dressed in matching black suits and skinny ties, they strutted onto the Quicken Loans Arena stage last night like they were prepping for a Forbes photo shoot. Opening with "How Long," they proceeded to play a mix of old and new material, throwing in the occasional solo tune to spice things up. They sounded great too — the vocal harmonies were crisp and clear, and they rarely missed a beat. The three-hour concert's first half was pretty solid. "Hotel California" still has an edge to it, and "Witchy Woman" was loud and snarling, just like it should be.
After a 15-minute intermission, the second set started with a series of new tunes from Long Road Out of Eden that were so dull and lifeless, even the band members took to sitting on bar stools to deliver them. It's as if they distilled the easy-listening tendencies of tunes such as "I Can't Tell You Why" and "Peaceful, Easy Feeling" and whittled them down into harmless drivel. The titles alone — "No More Walks in the Wood," "Waiting in the Weeds" and "No More Cloudy Days" — speak volumes to just how boring the tunes really are. You know you're in trouble when Glenn Frey introduced "No More Cloudy Days" by talking about how the guys like to get together to watch the Weather Channel.
Things picked up again with "One of These Nights," and hometown hero Joe Walsh brought the capacity crowd to its feet with "Life's Been Good." Even if Walsh missed a few notes while goofing around with his "helmet cam" (which enabled him to project crowd shots onto the big-screen TV behind the stage), it was almost a welcome change after the band had gone through every tune so flawlessly.
Walsh's rock 'n' roll spirit carried on into a rousing rendition of "Funk 49," and the band finished the second set strong with "Life in the Fast Lane." The encore featured "Take It Easy," "Rocky Mountain Way" and "Desperado," crowd pleasers that represent some of the members' best songwriting. Too bad the long road to the concert's end included a few too many stops in Eden. —Jeff Niesel; photos by Ashley Heeney