ERIC SANDY/SCENE
Jeshua Marshall stands on his bass, while Andrew Carew shreds the banjo.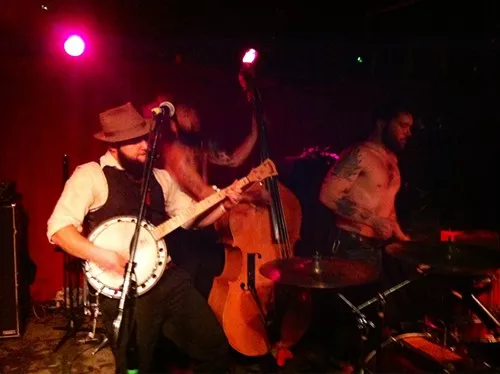 ERIC SANDY/SCENE
Always in motion.
First observation: I've never seen a bass player — playing one of those massive upright basses, no less - move as nimbly as Jeshua Marshall.
Larry and His Flask, some wild-ass punk/bluegrass outfit from central Oregon, savaged the stage at the Grog Shop last night. People in the crowd, fueled most likely by cheap whiskey and the burning cold of the night air outside, were decimated wholly.
From start to finish, the band whipped their quick set into a frenzy, stirring in a barrage of semi-new tunes with a handful of old. This was a party from the first note - a full-on performance that involved the audience members as much they were willing. Lead guitarist Ian Cook showed off dextrous fretwork all night, and banjoist Andrew Carew was clearly capable of turning a storm into a song, but a formidable premium was always placed firmly on the energy of the moment. These guys are all about pure fun.
Second observation: Jeshua's brother, Jamin, the band's drummer, is really great at screaming his fucking face off (and getting others to scream in unison).
In between most songs, the band either passed around a bottle of whiskey or hit whatever beer happened to be near their instrument at the time. Cook, at one point, announced that it was "great to be here on a Monday, everybody!" or something like that. A handful of people corrected him - this was a Wednesday night show - but, really, the notion was underscored that the evening's festivities were entirely separate from whatever concerns people had out there. The point - one lost at far too many concerts, I've noticed - was to be here with the band, celebrating... something, though *what* precisely never seemed to matter.
Motion? Kinetic energy? The catharsis of booze?
All of the above and then some.
The Great Climax of the night came when the band members stepped into the crowd and knelt down with their instruments. Everyone at the Grog knelt down around them. We all got cozy as drummer Jamin, now de-shirted and happily seething with the frenzy of the moment, called on us to dance our asses off.
1-2-3-4!
We all immediately leapt to our feet and transformed the floor into a minute-long hootenanny. There had been flashes of raucous skanking earlier in the night, but - whoo-ee - this last nod to the beast within all of us was something truly special.
Third observation: Why is this just now my first Larry and His Flask show?
Here's one their music videos, for reference:

And here's a 2011 show from Erie, Pa., that captures the band's vibe fairly well: