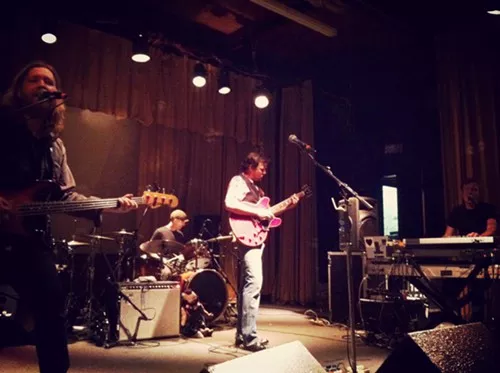 ERIC SANDY/SCENE
Tea Leaf Green
In the upper echelons of the contemporary jam band scene, it really seems like no other band gets as consistently mixed reviews as Tea Leaf Green. Some were ready to crown them as the Next Big Thing, a band prepped to fill the void left by Phish's breakup. The detractors are plenty, too; there's a sizable crowd among jam band fans that come off as either hostile or ambivalent to the band. The fact remains, though, that Tea Leaf Green can throw down incredible jams and continue cultivating a fresh sound.
Last night's show at the Beachland Ballroom proved as much to a small but dedicated crowd.
After the languishing throwaway opener "Penny Saved" (c'mon... "A penny saved is a penny earned"?), the band dove into more enthralling waters and never let up. Most of the set drew from the latest release, In The Wake. Each musician was on point all night, taking turns to push the song in new directions and frequently segueing into five-part improvisation.
Bassist Reed Mathis is an interesting case among the band members. He joined Tea Leaf in late 2007, bringing in a unique lead-centric style of playing. Throughout the night, he flipped on an octave pedal and rode the high tones like a guitar. His role as lead guy in so many of the set's jams showcased at least one major way in which Tea Leaf differs from other jam bands touring these days.
Meanwhile, guitarist Josh Clark held down the more foundational elements of the show. Now and then, he'd tear up an unbelievable slide solo, but more often Clark worked as a percussive counter to Mathis and keyboard player Trevor Garrod's stuff.
A sweet highlight early in the show came when Mathis introduced a song as reminding him a lot of Cleveland. "Don't Go" is a jaunty tale of love set in the cold plains of Ohio, and it worked perfectly as a reflective cool-down during the set's first frame.
Drummers Scott Rager and Cochrane MacMillan are also due several tips of the hat. Their rhythmic work was top-notch and complementary all night. The two-drummer thing doesn't always work well, but each guy here had a separate role and pulled it off with aplomb.
Interesting note: Beachland Ballroom partnered with Phoncerts to stream the show, a little collaboration that we're hoping to see more of in the future.