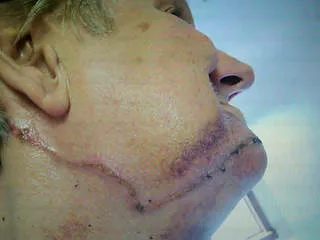 Here are constructive ways to address less-than-simpatico situations with your neighbors that probably won't land you in prison for six months:
1. Poop on their lawn
2. Poop on their lawn
3. Talk to them like a freaking adult
In contrast, here's how 71-year-old Akron resident Edwin Heatherly and his neighbor Kenneth Grether settled a dispute last summer, via News Channel 5:
Heatherly was cleaning his grill with [a] pressure washer on June 14, when his 69-year-old neighbor became upset because the grime from the grill was coming over the fence onto his house. The victim tried to get Heatherly's attention but was having difficulty because he is mute and deaf, so he sprayed his hose at Heatherly.

Heatherly responded by spraying his power washer at the victim, cutting his hands, arms, chin, neck and the area behind his ear.
As you can see, Heatherly's attack heavily scarred Grether's face and neck; police found him "bleeding profusely" after Heatherly's wife overheard the quarrel and called 911. Grether's medical bills for treating the wounds totaled over $40,000.
Heatherly just pled guilty to the assault and was sentenced to six months in jail and ordered to pay $43,000 in restitution.
It seems neither Gether or Heatherly has moved out yet, so we can only assume the saga will continue once Heatherly's out of jail. Hopefully with lawn doo-doo instead of Akronian neckties, which is what we shall henceforth use as shorthand for "lacerating your neighbor's neck with outdoor power tools."