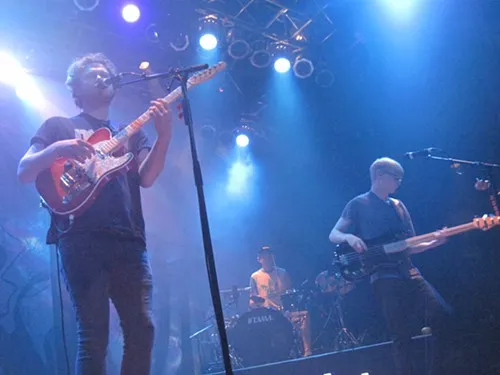 ERIC SANDY/SCENE
Joe Newman, Gwil Sainsbury and Thom Green of Alt-J perform at House of Blues.
Alt-J is sort of an enigmatic band. Their sound doesn't fit most conventional descriptors (nor does singer Joe Newman's patently, um, *unique* voice). Also: If you need a hint as to the meaning of the band's name, type it out on your keyboard.
Despite all the weirdness, the band writes and performs really enticing stuff. There's a reason why last night's gig at the House of Blues sold out, leaving many desolate and alone on the curb cut of Euclid Avenue.
From beginning to end, the crowd was insanely enthusiastic. One thing that was clear was that the band's oversaturated blogosphere hype had preceded them at this sold-out show. It seemed like half the fans in attendance were hangers-on drawn to the show via the single "Breezeblocks." The other half, a blend of all ages and ilk, were tuned into the finer the details of the band's debut album An Awesome Wave. Serious fans.
As soon as the lilting opening notes to "Intro" meandered through the speakers, the audience was in the zone and the band was ascending through the cosmos of their grandiose sound. The rest of the set progressed through nearly the entirety of the band's album, with notable highlights being "Something Good" and "Matilda."
There's a certain headiness to much of the band's material. I paired it with Tanqueray throughout the set; most of the people hanging down in the pit went ahead and paired it with kind bud. Worthy options, to be sure.
In all, the show was spectacular. These musicians are talented, dedicated and reverent. But, sound-wise, the songs didn't break from their studio structures. Several cover tunes and one song that was announced as "new" ("Buffalo") tossed some variety into the mix, but that may all be beside the point.
Again, whether via hype or aural obsession, most people were there simply to live out this top-tier album. They got what they wanted, and that's a beautiful thing.
Setlist:
Intro
(Ripe & Ruin)
Tessellate
Something Good
Buffalo
Dissolve Me
Fitzpleasure
Slow Dre (Kylie Minogue, Dr. Dre cover)
Matilda
(Guitar)
Bloodflood
Ms
Breezeblocks
Encore:
Hand-Made
A Real Hero (College cover)
Taro