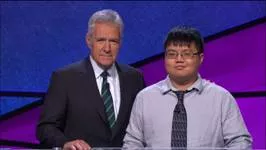 JEOPARDY PRODUCTIONS INC.
Trebek and Chu
Broadview Heights resident Arthur Chu, now known internationally for
his Jeopardy! game theory prowess
, has joined the
mostly inane
horde of responses to last week's Santa Barbara shootings.
His piece at The Daily Beast is worth reading, if only because he goes long on the embedded nature of video game culture these days. Most guys are stable enough to differentiate Mario's castle travails - and Chu certainly isn't calling nerdy guys potential rapists - but the bombardment of male dominance in most video games does carry its own sort of nefarious cultural meme. Here's Chu:
But the overall problem is one of a culture where instead of seeing women as, you know, people, protagonists of their own stories just like we are of ours, men are taught that women are things to "earn," to "win." That if we try hard enough and persist long enough, we'll get the girl in the end. Like life is a video game and women, like money and status, are just part of the reward we get for doing well.
Chu is getting at a broader undercurrent of misogyny - not just in video games, but in our culture as a whole. The mass media discusses "rape culture" as though it's an abstract concept - almost a joke. But this is very much a real discussion that needs to be thrust into the open. (see #YesAllWomen)
Again, Chu:
So, a question, to my fellow male nerds:

What the fuck is wrong with us?

How much longer are we going to be in denial that there's a thing called "rape culture" and we ought to do something about it?

No, not the straw man that all men are constantly plotting rape, but that we live in an entitlement culture where guys think they need to be having sex with girls in order to be happy and fulfilled. That in a culture that constantly celebrates the narrative of guys trying hard, overcoming challenges, concocting clever ruses and automatically getting a woman thrown at them as a prize as a result, there will always be some guy who crosses the line into committing a violent crime to get what he "deserves," or get vengeance for being denied it.
Go check out the rest of his piece.