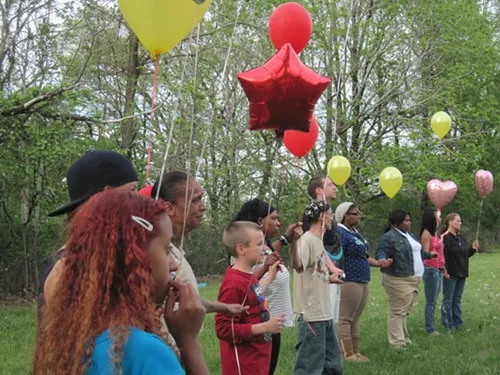 ERIC SANDY/SCENE
Neighbors gather to release balloons in honor of Michelle Knight and all victims of tragedy.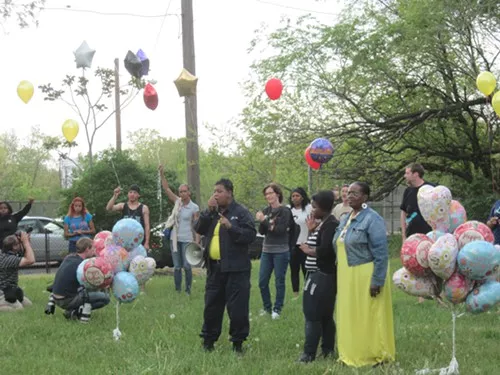 ERIC SANDY/SCENE
Local minister Loretta Freeman rallies the crowd Thursday night.
The atmosphere was jubilant and hopeful Thursday evening as dozens of community members, and friends and family members of the
kidnapping victims
gathered at the end of Seymour Avenue for an inspiring event.
Organized by the Integrate Faith Assembly, Mothers Coming Together, Survivors/Victims of Tragedy and Black on Black Crime, the balloon release brought attention to the fact that, despite overwhelmingly good news this week, there is still much to be done.
Call-and-response chants rang through the field that rests up against Scranton Road. "Who are we here for?" "All our babies! All of them!" Minister Loretta Freeman led the crowd in a stirring ceremony during which she reflected on the pain wrought on the community. She noted that the event was meant to honor all victims of kidnapping and all families who have experienced loss, but she highlighted Michelle Knight as the one victim who has not garnered significant attention in local discussion since Monday night.
"She's a butterfly. She can fly now," Freeman said. "Michelle, you get your wings, girl, and you fly."
Knight is still in the hospital, with recent reports having her in "good" condition. MetroHealth Medical Center originally issued a press release noting that Knight was released from the hospital Tuesday morning along with Amanda Berry, Gina DeJesus and Berry's daughter. Hospital representatives have since retracted that statement. Conflicting reports remain bouncing around the echo chamber of local and national media outlets with regard to Knight's condition.
Nonetheless, the fact remains that the women were rescued from 2207 Seymour Avenue, and they are safe now. But Freeman pleaded with everyone in attendance last night not to let the story drop from the local radar.
"Just don't take the story and leave her. Help all four girls, because they're going to need it," Freeman said, addressing the neighbors and, most pointedly, the local and national media.