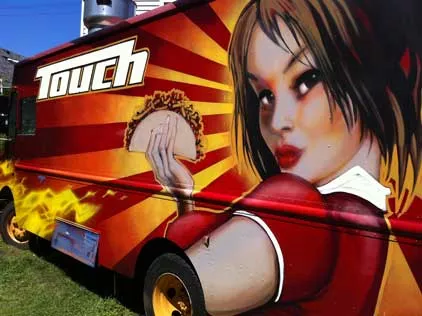 Brite Winter Festival is slated for this weekend, though tensions over some food truck operations along West 25th Street are lingering.
Historically, Touch Supper Club's 'Touch Supper Truck' opens for business on Fridays and Saturdays in Ohio City, typically near the corner of West 25th Street and Carroll Avenue. Even in colder months, this is how they roll.
But on Feb. 15, West 25th and surrounding neighborhoods will be transformed into the sprawling Brite Winter Festival. And business owners, including Touch's Robert Ivanov, all agree that that's a terrific thing. But the folks behind Brite are calling up Cleveland law and bringing all food truck operations under the fest's umbrella. Ivanov, who along with other restaurant owners in the area received a letter from Brite Cleveland Director Donald Bulea, isn't interested in ponying up cash money just to do what he normally does with Touch Supper Truck.
"Since we're there every weekend anyway, how is this affecting [the] festival?" he asks. Although it's not like relations between Brite Winter and Touch are entirely warm. Ivanov said he's dropped requests to buy a presence in the festival. A quick look at the map of the festival grounds shows an empty polygon on Lorain Avenue where Touch is located; other businesses are named and given representation on the map.
The letter sent to Touch cites an ordinance in the city of Cleveland that prohibits "mobile food shops" from operating within 750 feet of a "special event," as deemed so by the city's permit process. Touch Supper Club's typical truck-operating outpost falls within Brite's sprawling festival grounds.
"We're a community festival, so we're hoping everyone can benefit from the festival, including Touch," Bulea tells Scene. "We approached them in the fall about being a food truck vendor, and they declined."
Bulea closes his letter with a suggestion:
"If Touch Supper Club would like to participate in Brite Winter Festival 2014, please remit payment of $250 to Brite Winter..."
As of Friday morning, Touch hadn't officially responded to the notice.
"We park there every weekend. What difference is this weekend or next weekend?" Ivanov says, adding that Touch also parked there on the weekend of Brite Winter last year without issue. "If they're all about making this an event about Cleveland and trying to extort money from a neighborhood place that has a presence and has been there longer than the event has been there, it doens't sound like they're doing the event for Cleveland to me."