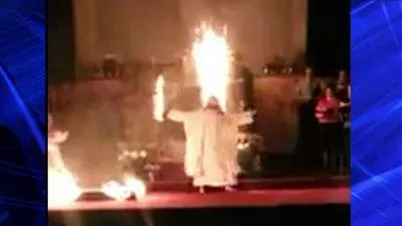 Canton's First Church of the Nazarene is currently being investigated by the Canton Fire Department for pyro stunts that got out of control at an Easter pageant last Sunday, nearly burning the Son of God (well, the actor playing him) and actually burning the son of the congregation's pastor and another audience member.
In an attempt to dramatize Jesus' resurrection, the event organizers thought it would be sweet to have Jesus emerge from his stony crypt, haloed by sparklers. Says First Church Pastor Mike Dennis:
"At a dramatic moment, the stone was to have, like, sparks going around the stone, as if to say Christ was coming back to life at that moment."
But the sparks ignited the set, engulfing the stage in flames. Thankfully, good ol' J.C. emerged unscathed, but youth pastor Paul Dennis, Mike's son, suffered second-degree burns when he ran onstage to grab a fiery slab of the stone covering Jesus.
As you can see in the video, the best part is when the Jesus impersonator roundhouses his way out of his flaming tomb (prompting the pastor to comment "I'm pretty sure that the guy playing Jesus was Chuck Norris!" on YouTube). The second best part is the portly vocal soloist who keeps singing "He Is Risen" as the 10-foot blaze overtakes the stage. The third best part is when Rammstein finally comes on.
Thanks to coverage from pseudo-hipster Christian magazine Relevant, the episode went a little viral. The Canton Fire Department, however, was less than amused. As Division Chief John Whitlatch told the Canton Rep on Wednesday, "They broke several laws in doing that. It's very dangerous and alarming. Jesus may forgive them, but the fire department doesn't have to."
Dude, relax. That's what holy water is for, right?