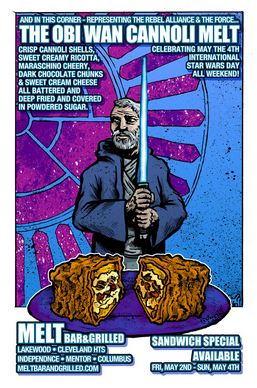 Image via Melt Bar and Grilled
Sunday, May 4 is National Star Wars day and if you're looking for a way to celebrate locally, look no further.
Melt Bar and Grilled has Clevelanders covered this weekend with an array of Star Wars-themed sandwiches and drinks, including The Obi Wan Cannoli Melt (Deep fried cannoli shells, ricotta, sweet cream cheese, dark chocolate and cherries) and the Vader's Thai Fighter Melt (rice noodles, bean sprouts, scrambled egg, peanuts, scallions, pad thai sauce, lime, and pepper-jack cheese).
Other Star Wars themed specials include beers like the Brew Kettle Dark Helmet and Revolution Brewing Deth's Tar.
So, local Star Wars fanatics, prepare for a feast that's outta this galaxy, and May the Fourth be with you.