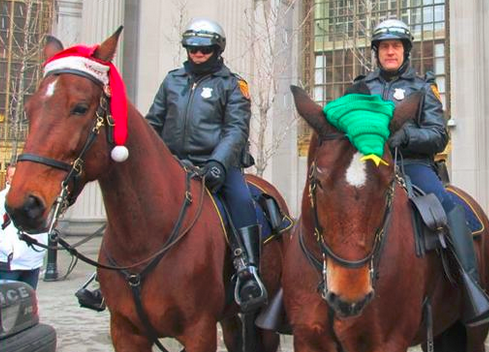 Photo Courtesy of Cleveland Police, Facebook
As Clevelanders from east to west flock to the city center on Tuesday to usher in the new year, security in downtown Cleveland will get a bit of a boost.
Police confirm they will be taking extra security precautions before and during this year's New Year's Eve celebration due, in part, to the rather high profile acts who are swingin' through town, namely funnyman Drew Carey and electronic dance music trio Krewella.
For starters, police have lined up a bomb search prior to the launch of the evening's festivities, and have increased the number of foot and horse patrolling officers on duty Tuesday. Security feeds will also live stream the event to off-site officials all night long.
Ladies (and gents) should also forgo bringing purses — bags of any kind will not be permitted in the square— and all merrymakers should expect long lines for beer concessions as vendors will be confined to one small area of public square so authorities can keep an eye on the drunken debauchery.