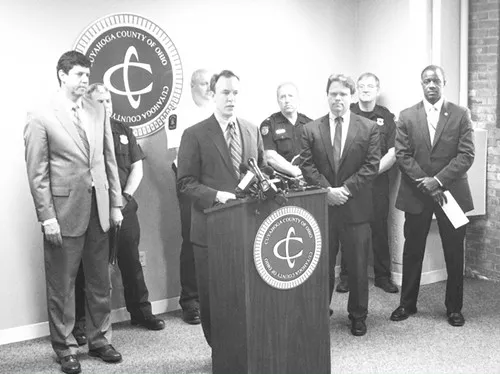 ERIC SANDY/SCENE
Ed FitzGerald, surrounded by county officials and safety leaders from various suburbs, announces a stricter approach to heroin investigations.
Cuyahoga County Executive Ed FitzGerald today announced a stricter approach to heroin investigations in the wake of an epidemic that is still taking a toll on the region. The gist: tighter networking among area police departments, broader public outreach, and harsher penalties for dealers linked to
overdose deaths
.
"We think this is going to bring more heroin dealers to justice," FitzGerald said, mentioning a number of elements of this new protocol (access to naloxone, ongoing use of DNA tools in investigations, ongoing training for law enforcement). With respect to training, FitzGerald said that, as has been the most notable undercurrent of the local heroin epidemic, the profile of heroin overdose victims has shifted to include more suburban demographics. By the end of the month, 27 suburban police departments will have gone through the county task force's training program.
And as the county has already begun to do under Prosecutor Timothy McGinty, heroin dealers found to be the source of heroin that killed someone will be punished more severely.
"The message from today that is to go out to heroin dealers in our community is that if you are dealing heroin and you kill somebody, you are going to jail for a very, very long time," U.S. Attorney Steven Dettelbach said.
County Medical Examiner Thomas Gilson said that, based on preliminary reports, 38-40 heroin overdoses occurred in the first quarter of 2014. That's lower than in any other first quarter since 2011 (31). He admitted there was a silver lining of good news there, but that the numbers are still wildly high. In 2007, for comparison, there were 40 recorded heroin overdoses countywide.
Indeed, a chart showing the previous four first quarters was handed out to the media today, though the sample size *did* seem rather small and overly specific. FitzGerald likewise emphasized that the county was not out of the woods yet with respect to heroin-related deaths.
"There is still a lot of work to be done," he said.