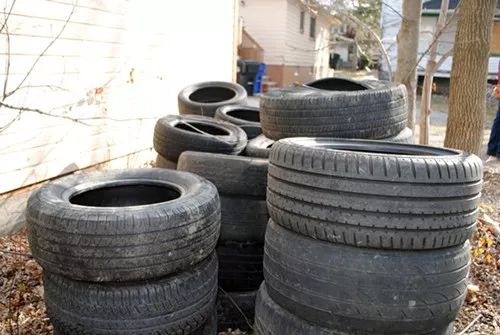 Sam Allard / Scene
Tire dump site in Mount Pleasant
Wednesday morning, Cleveland City Council's safety committee approved an ordinance which will authorize the Director of Public Safety — our pal, the
dour former Police Chief Michael McGrath
— to spend as much as $50,000 on equipment for the Cleveland Police Department's new Environmental Crimes Unit.
The Environmental Crimes Unit? You heard right, citizens. It's a three-man, full-time team, still only six weeks old, and with one Sergeant and two detectives who will devote itself to the inspection of scrap yards and tire shops, and strategically (and stringently!) enforce illegal dumping.
Council members were generally enthusiastic about providing financial support to this new detail, though Chairman Matt Zone called $50,000 a "drop in the bucket." Deputy Chief Wayne Drummond speculated that the money would likely be used for things like binoculars, mobile cameras, and even a vehicle. (You know, spy stuff). He also said that the biggest challenge for the unit, in the early going, is assembling resources for site cleanup, a problem that has plagued concerned council members for some time.
Councilman Polensek, though, with a weary hand to his temple, lamented the current state of policing with respect to illegal dumping and unlicensed tire shops. He said that residents have even told him that off-duty Cleveland Police Officers had been working at a Kirby Road scrap facility, known to operate with only an abstract relationship with the law.
Director McGrath said all officers' secondary employment requests had to go through him directly. He guaranteed that in the future, if officers were working at scrap facilities, the facilities would be operating legally and with appropriate licensing.
Police Chief Calvin Williams and the assorted law enforcement personnel at Wednesday's meeting urged council to understand that a change won't occur overnight, but that "within six months to two, two-and-a-half years," they would certainly see a change.
Councilman Zone said that a joint committee would meet later in the summer to assess the unit's progress.