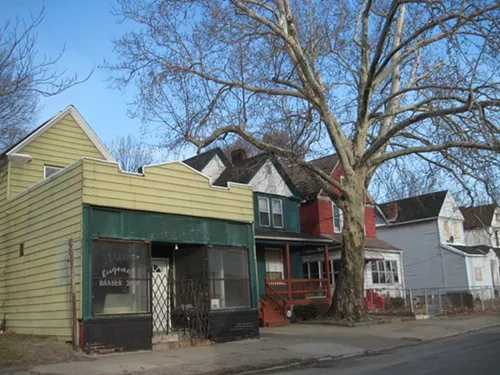 ERIC SANDY/SCENE
Vacant properties dot neighborhoods across Cleveland.
"Vacant and abandoned properties pose a threat to citizens' safety, contribute to an environment that fosters crime, slow community development, depress neighboring property values, and accelerate residential flight."
That's a notable line in the ordinance establishing the Cuyahoga County Property Demolition Fund. Council members are expected to vote on the fund during today's meeting.
At his State of the County speech last month, Executive Ed FitzGerald promised to funnel $50 million in bonds toward the demolition of vacant homes and the restoration of those properties. Once council approves the new fund, the first step will have been taken toward meeting that goal.
The "restoration" portion of that goal, which was not immediately identified during his speech, revolves around possibilities like "buy-hold-and-maintain strategies [or] site assembly for strategic development and construction," according to county documents.
This program would include annual progress reports to council and the public.
Council members will discuss the fund at today's meeting, which will be held at 5 p.m. at the Justice Center.