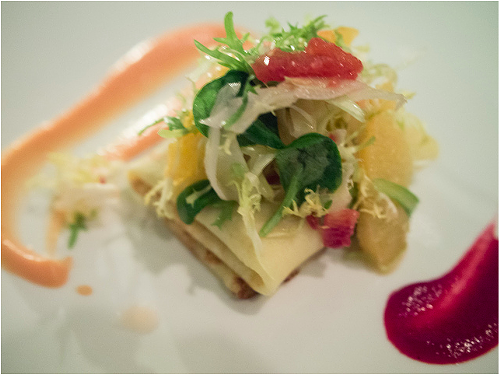 Dinner in the Dark 25 - Maryland Crab Crêpe Jimmy Pintiello, Blue Door Cafe and Bakery
The latest installment of Dinner in the Dark was held at Bắc Asian American Bistro this past Sunday evening. The most noteworthy aspect of these events is that — like snowflakes gently falling in winter — they cannot be replicated.
The evening's experience is largely dictated by the six chefs chosen at the discretion of the host chef. The events are made even more memorable because the chefs are given more artistic license than in their own restaurant's kitchens. The end result is six courses of unforgettable presentations, flavors and textures.
If you dine out frequently, it is the perfect way to see local talent that you know and love reach for the stars in a one time-only venue, and also meet new, up-and-coming chefs.
There are three more reasons that make these evenings one of the best nights out every month:
First, Joe Deluca, who coordinates the perfect paired cocktails, wines and beers for the evening. Often, he features something new to the Cleveland market or something locally made.
Second, is that it's a fantastic social event. You can choose to go with a table full of friends or leave your seating to their discretion. We have often opted for the latter. As I've said before, dining out is the only area of life where we show any true sense of adventure. And once again, we were rewarded by meeting a wonderful group of young professionals who we hope to dine with again.
Third, is that proceeds go to a different charity each month. This month's charity was the American Red Cross.
Dinner in the Dark, created by Jeffrey Jarrett, AMP 150 and Brian Okin, is an evening of fun with old or new friends at a once in a lifetime supper with expertly chosen drinks while donating to charity. Brilliant!