Sam Allard / Scene
Edgewater Yacht Club dockage
Not one representative from the Ohio Department of Natural Resources attended a community meeting Friday afternoon called by State Representative Nickie J. Antonio to address public concerns about the Edgewater Marina floating docks project. Those docks are currently under construction, flaws and all, and are scheduled to open by mid-May in the face of admonishment from local boaters who have repeatedly and explicitly stated that floating docks are a nightmare in the making and a colossal waste of Federal dollars.
About 40 people attended the meeting at Our Lady of Mount Carmel School in Detroit-Shoreway, many of whom voiced their opposition to the project during public comment.

Scene published an in-depth analysis last month with serious reservations about the docks. But to date, ODNR employees have not answered 30 questions we submitted, at their request, regarding the docks' construction, the legality of the no-bid contracts awarded to companies with poor track records in Ohio, and a growing list of safety concerns.
ODNR did provide an "official statement," courtesy of Legislative Liaison Erik Mikkelson, which Antonio read at the meeting. It was roughly the same statement ODNR's Bethany McCorkle cooked up for Scene a month ago, acknowledging that the docks represented a calculated risk.
"ODNR understood there was some risk involved in replacing the docks prior to completing the break wall, but after weighing the potential risk against the possibility of losing the 2014 boating season, chose to move forward with construction of the marina," the statement read. "We have an obligation to the concessionaire as well as the public to repair and replace the marina in a timely manner and have heard positive feedback about the renovations."
No word, yet, on where that positive feedback is coming from. But it's doubtful that taxpayers in Northeast Ohio are supplying thumbs up or smiles. After all, they're the ones assuming the risk, not ODNR. Around here, the current marina project is being interpreted as a quick and imprudent fix.
That said, only one of the 13 attendees from Edgewater Marina at Friday's meeting said she wouldn't be returning for the 2014 boating season due to the increased risk.
Others don't particularly like the floating docks, and "completely agree" with the safety objections put forth by members of the adjacent Edgewater Yacht Club, but for a lot of them, just having a place to dock is the most important consideration.

Still, the abiding sentiment at Friday's meeting (from both the marina and yacht club crowds) was that the ODNR people in Columbus do not know or simply do not care about what's going on in Northeast Ohio. That agency has green lit a project which local experts insist is a bad idea and have been unresponsive when presented with concerns.
Erik Mikkelson forwarded Scene's latest batch of questions to ODNR's "communications shop."
Cleveland Metroparks' Director of Communications Sue Allen was at Friday's meeting "in a listening capacity," furiously taking notes on an iPad. CMP has skin in the game, of course, ever since they acquired six lakefront parks from the state last June.
Tom Vanover, Cleveland's commissioner of code enforcement for the department of building and housing, was present as well. He quickly deferred all enforcement questions, in particular, questions related to electrical codes, to the state's division of industrial compliance.
That office took our call. When asked directly, "Are you guys responsible for code enforcement at the Edgewater Marina?" The communications director responded, "Where is that?"
He later confirmed that the division of industrial compliance would indeed be responsible for code enforcement issues, but said they have not yet received plans from the marina architect.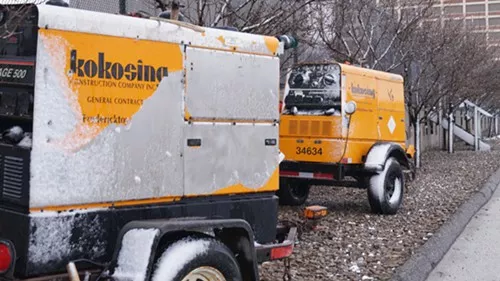 Sam Allard / Scene
Kokosing Construction charging full speed ahead.
Friday's meeting was little more than another venue to ask questions and air familiar frustrations — The docks won't withstand the waves in severe weather; There aren't enough tie-offs; Why aren't there any safety ladders?; Why isn't the break wall a more urgent concern?; Who's on the hook for damages if the docks are destroyed? — without anyone there to answer them.
Former Edgewater Yacht Club Commodore Greg Group, who's been leading the charge for transparency, relayed a story of the latest example of ineptitude. Group is a marine surveyor and made a fuss about the steel cleats on the edges of the floating docks, cleats which would cut through tie-lines. When he recently visited the docks, he saw a single worker smoothing down the cleats with an electric grinder one by one. In the process, the worker was also sanding off the galvanized steel coating which prevents rust.
"The hubris and arrogance of ODNR regarding this project is unacceptable," Group later wrote Scene in an email. "As is their apparent lack of coastal engineering experience, lack of appreciation of the force of Lake Erie, and failure to even meet with or consult the end user boaters who they expect to rent this floating junk."
City councilman Matt Zone was present Friday and urged attendees to badger state employees with phone calls and emails. Both Zone and Antonio reminded the crowd that this wasn't a political issue.
"It's not about Democrat or Republican," said Antonio. "It's about our water."