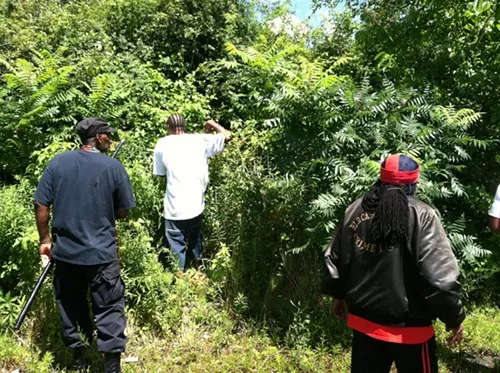 ERIC SANDY/SCENE
Men scour the woods behind an East Cleveland civic center July 24.
The men ambled through thick, overgrown brush and across dirt riddled with broken glass and trash. Most of them brandished gnarled sticks or wooden posts, which they used to sift through leaves and litter in search of the worst: another body.
The wooded area encircles a running track behind the Martin Luther King Jr. Civic Center on Shaw Avenue. It's near the area where the bodies of three women - Shetisha Sheeley, Angela Deskins and Shirellda Terry - were found in plastic bags last weekend. And the suspected murderer, Michael Madison, had at one point been court-ordered to spend time at the civic center. These days, women from the neighborhood are too frightened to run along the track or go anywhere near the woods.
Many are too frightened to walk far from home at all now.
In the wake of the discovery of the murders, the East Cleveland neighborhood surrounding Shaw and Hayden avenues has come together to seek a hopeful future and a way out of the senseless violence.
Anthony Carter, 25, walked with the group from the civic center into a nearby neighborhood, down Elderwood and Chapman avenues. Still clutching a notebook, he had just come from school to join the mid-day search.
"It's shocking. I've been around here my whole life," he said. "It's only right to come out here and help. It's gotta start somewhere."
The group included several members of Black on Black Crime Inc., like activist Art McKoy. As he led the search through the neighborhood, he explained that everyone has a hand in improving safety. The problem is just too big for police to do it alone, he said. "As you can see, there's so much abandonment and so much blight. There are so many ways that crime can exist," he added.
The search concluded for the day with Michael White showing off what appeared to be a bone found on the second story of an abandoned building. It was passed on to officers, though results of any testing are thus far unknown.
***
On Wednesday evening, Kathy Wray Coleman organized a rally near the site of the first discovery of a body. She invited family members of the victims to speak, as well as elected officials and leaders of various activist groups from the region. Minister Tanya Robinson Williams spoke on behalf of Kimmetta Sheeley, the mother of one of the victims. She begged the crowd to stop merely looking and begin acting and working toward a safer community.
"We will take our streets back. We will protect our families," she said.
The ralliers reminded everyone that overt violence against women and children has become a terrifying trend - disproportionately so in black neighborhoods and poorer neighborhoods. And outside the most visible stories - including the Imperial Avenue murders and the Seymour Avenue kidnappings - violence is perpetrated daily.
"Women are still being attacked in the area," Angelique Malone said during the rally. She's the daughter of Christine Malone, whose March 2013 murder remains unsolved.
Christine Wilson, who joined the volunteer search of the area earlier in the day, offered an immediate and horrifying story. Her Wednesday had begun with a trip to MetroHealth Medical Center, where her 21-year-old daughter lay unconscious after being raped on East 146th Street. Two weeks prior, her 15-year-old granddaughter had been raped on the other side of town.
Ernie Smith, chairman of the Oppressed People's Nation, joined many others in calls for unity and support throughout East Cleveland and beyond. He also pointed out the numerous factors of life that people are demanding be improved in the community.
"It's a lack of education. It's a lack of decent housing. It's a lack of justice. It's a lack of self-pride, of self-dignity," Smith said.