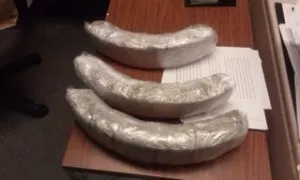 After a used car arrived for a repair, Amherst mechanics at AutoNation heard a loud noise coming from the spare tire they'd just put on.
So, Dennis Cavanaugh, the Lorain County drug task force commander, was called in to check it out. He opened up the tire, and what did he find? Eight pounds of marijuana.
(That's a street value of approximately $12,000.)
It's unclear if the car's current owner, who came in after he noticed a screw in the old wheel, is the legitimate owner of the drugs or even if he knew they were there (we bet he didn't, but hey, that's just us).
Either way, whoever did put the drugs there either forgot about them or forgot that spare tires could be used as, you know, tires.
The case is still under investigation.