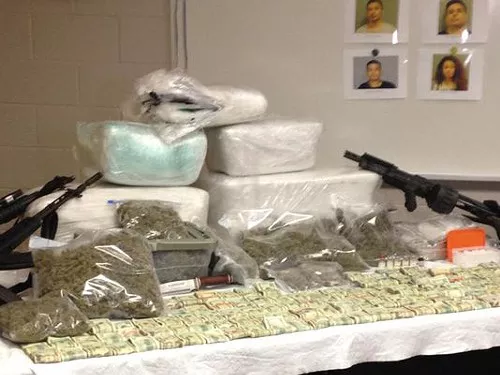 A huge ass drug bust went down yesterday in Geauga County, resulting in four arrests and the seizure of a whole lot of drugs, guns, and cash.
WKYC reports that feds were acting on a search warrant for drug trafficking at an upscale, rented Park View Drive home in Newbury, when they discovered $1.5 million worth of cocaine, marijuana and crystal meth, along with $128,000 in cold hard cash, several weapons, and - you guessed it - night vision equipment. They also took possession of a motor home connected to the suspects.
Folks living nearby said they hadn't seen much of their neighbors in the two-plus years since they moved in — apparently the residents kept to themselves and kept their blinds tightly closed — but they did report seeing heavy traffic coming and going from the home, and occasionally spotted young children playing in the lawn.
Not much else is known at this time except, of course, the fact that yesterday's raid will go down as one of the biggest in Geauga County history.