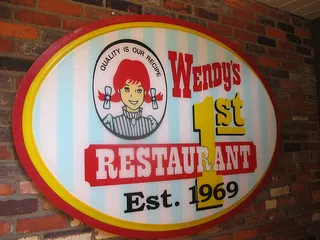 Photo Courtesy of Flickr Creative Commons
Wendy's, the Ohio-based fast food giant, opened its first tech-savvy store this morning, across the street from its Dublin, OH headquarters.
Folks used to the drab red-and-yellow-hued establishment are in for a shocker— not only is the new store sporting a richer set of scarlets and golds, it's also flaunting a digital menu board, a Wi-Fi bar, a fireplace, and flat-screen TVs, for starters.
While this new flagship restaurant definitely screams modern, it's also seeking to pay homage to Wendy's founder Dave Thomas and to its central Ohio roots. Original cookware, signage, and furniture are exhibited to help chronicle the burger joint's journey through the decades. Also on display is a larger-than-life bronze statue of Thomas, sculpted by artist Matthew Gray Palmer.
For some pictures of the new digs, head on over to The Columbus Dispatch. The new tech-savvy Wendy's is located at 4555 W. Dublin-Granville Road.