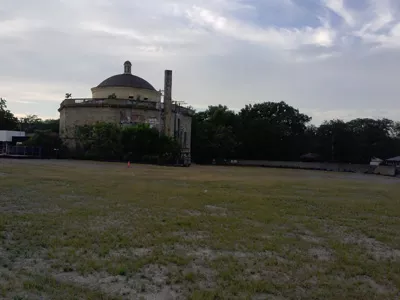 NEIGHBORS IN ACTION
The corner of West 117th and Clifton is now a grassy lot, save for the vacant Fifth Church of Christ Scientist located along Lake Avenue to the north.
We
reported
back in March that the word on the street was revolving around a Giant Eagle Express homing in on the vacant corner of West 117th and Clifton. As it turns out, that's the case.
A community meeting last week revealed as much when city officials and Carnegie Cos. developers showcased plans for the Pittsburgh-based grocer and a number of other retail outlets. The Giant Eagle Express would differ from the company's massive Detroit Avenue and West 117th locations, instead lending this neighborhood a 30,000-square-foot market specializing in produce and fresh foods. The site has been owned by Giant Eagle for years.
Michelle Jarboe McFee at The Plain Dealer nails a very important part of this development news:
To prevent a competitor from moving in, the grocer placed deed restrictions on [Fifth Church of Christ Scientist] that make it nearly impossible to build a sizable grocery store on that property or the surrounding land. Those restrictions don't roll off until late 2022. Giant Eagle is the only party that can lift them.
Nevertheless, because things like Giant Eagles Expresses require a whole lotta parking, these plans are dependent on the long-vacant, city-owned Fifth Church of Christ Scientist being demolished.
City Councilman Jay Westbrook - who represents the neighborhood now, but will cede the role to Councilman Matt Zone next year - spoke at length about the history of the site last week, bringing attendees up to speed on what's been going on at the corner of West 117th and Clifton in recent years.
"I believe that what you're going to see tonight meets many...of the concepts that were stated as design guidelines, as wished-for outcomes," he said. Indeed, the current plans are more robust than those first sloughed through the public meeting process earlier this year, but the proposed development remains controversial. (Listen to audio of the meeting online.)
Area residents, many of whom have remained engaged throughout the planning process, have proffered another plan. Neighbors in Action reeled in Shaker Heights-based Bialosky & Partners Architects to show how park space could be developed on the property. Their plans also include maintenance of the church's portico.