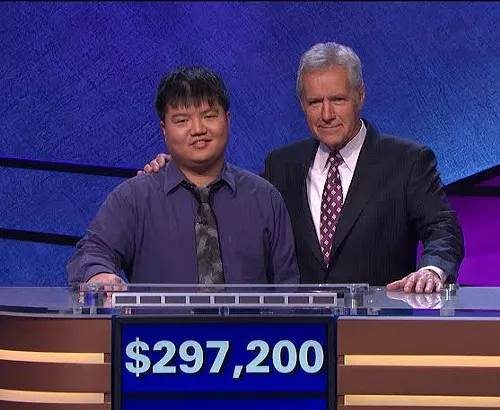 JEOPARDY PRODUCTIONS INC.
In case you missed the
home-page article on Cleveland.com that ran prior to tonight's Jeopardy! episode
, here's the result (the episode is now over, by the way): Arthur Chu OUT.
We profiled the trivia buff immediately after his third win. He went on to notch 11 big ones, becoming the third-winningest player in Jeopardy! history. In short, his run was the stuff of legend.
With respect to tonight's action, though: Media types get summary results ahead of time, but all information distributed is "embargoed" by the production company until post-show. The Northeast Ohio Media Group ran the results at 5:55 p.m. via Michael McIntyre's "Tipoff" column.
Here's the explanation:
Hey folks: The decision to run this now rather than after the show airs locally was made (way above my pay grade) for a number of reasons:
1. We are not running some sort of whisper or inside tip thing. This show has aired already in other markets today.
2. The information was already reported by a national Web site, Deadspin (linked below) and discussed on Twitter and other social media. It is not a secret.
3. It actually does make me want to watch the episode even more to find out how this happened. He really did have a great run.
All of that said, please accept my apologies for those of you who are upset by this post, especially the guy who called me choice names in an e-mail.
(Emphasis Scene's) Speaking of other markets, Jeopardy! airs at 4:30 p.m. in Panama City, Fla., and possibly other decidedly non-Cleveland arenas. Deadspin ran the results earlier, too, though they certainly haven't been hyping the Chu narrative as a ceaseless local thrill. This was, for Northeast Ohio, a local human-interest story. Spoiling outright what became a rather exciting nightly rush of competition is a bad move.
Meanwhile, here's Chu:
"Once it looked like I was doing well, my goal was to beat Dave Madden, the second-winningest player in JEOPARDY! regular season competition. I didn't quite make it there but I think third place is quite respectable," Chu says. "$297,200 is an awfully unsatisfying-looking number; Alex [Trebek] gave me a hard time about not breaking $300,000 and I wish I had, if only to make for a better story."
And now we all scream into the void - in unison, please: CHUUUUUUU