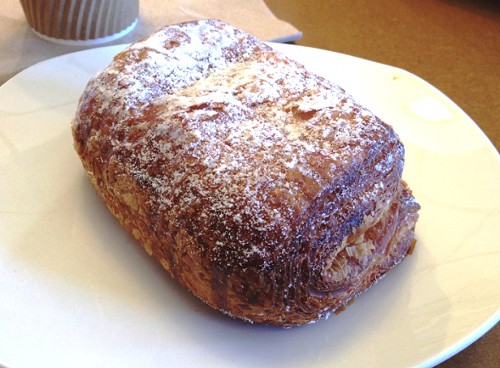 Croissants are deceptively delicious treats. They're a tempting enough display, all golden brown and glistening, but it's hard to compete with some of their more elaborate bakery counterparts. But as anybody who's ever indulged in a really great croissant can attest, the French have every reason to adore them. That flaky crackle on the outside gives way to soft, chewy layers of lush, buttery dough. Pure pastry heaven.
While they are perfect eaten just as they come, croissants also serve as an excellent base for almost any variation: spread thick with butter and jam, split and filled for a sandwich, or dressed up with ingredients baked right inside. Here are a few local favorites to get you started.
Chocolate Croissant from Luna Bakery Café (2482 Fairmount Blvd., 216-231-8585, lunabakerycafe.com) Pictured. A dusting of powdered sugar on top hints at the sweet treat tucked between this croissant's light and airy layers. Bite down into the pastry and discover a decadent ooze of rich melted chocolate.
Monkey Bread Croissant from Bonbon Pastry & Café (2549 Lorain Ave., 216-458-9225, bonboncleveland.com) Perhaps the most unique way to enjoy this treat: croissant pieces are covered in a brown sugar glaze and formed together in a sweet croissant-muffin of sorts. To enjoy, pull sections apart much like those addictive loaves of monkey bread we all know and love.
Savory Croissants from Blackbird Baking Company (1391 Sloane Ave., 216-712-6599, blackbirdbaking.com) A flavorful twist on croissants that happens to be perfect for any time of day. The bakery offers spinach and feta to satisfy veggie lovers or ham and cheese for something a little more filling. Both varieties are baked fresh each morning at this beloved Lakewood bakery.
Classic Croissant from On the Rise Artisan Breads (3471 Fairmount Blvd., 216-320-9923, ontheriseartisanbreads.com) Keep things simple and enjoy the croissant's subtle delicacy with a traditional croissant from On the Rise. This plain croissant also is the perfect vehicle for butter, jam, or any other creative sandwich combination.