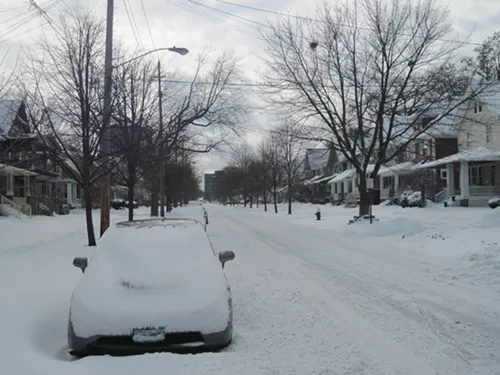 ERIC SANDY/SCENE
St. Charles Avenue
Morton Salt, the company that both keeps your potatoes savory and your streets free from the twin scourges of ice and snow, is not cooperating with the city of Lakewood. In fact, Morton has not yet fulfilled promises to deliver 1,000 tons of salt ordered by the city. Drivers and pedestrians alike are suffering as a result.
As of this morning, St. Charles Avenue looked like hell. The commute down Clifton Boulevard was more of a skittering dance toward death. At the corner of Belle and Clifton, there was a van half-submerged in dirty snow. A police officer was blocking the boulevard's right lane, trying to keep other motorists from drifting into danger en route to Cleveland. In short, the lack of salt was making things downright terrifying today.
"We are doing everything we can do ensure the safety of our residents," Mayor Michael Summers said. "And getting a salt to clear our streets is a big part of that. Unfortunately, we have had promises repeatedly broken by Morton." The company has promised salt by the end of the week.
Typical storage capacity hovers around 1,500 tons in Lakewood. The city is working with 250 tons right now. It's not looking the problem will be solved entirely anytime soon.
Officials in Salem, Ohio, for instance, have reported the same thing. The city services director in Salem explained that municipalities are far down on Morton's list of pending deliveries; ODOT comes first, followed by county needs.
Requests for comment from both ODOT and Morton have not yet been answered. Scene will update as more information comes in.
UPDATE: Here's Morton's official input: "Demand for deicing salt has been much higher than normal this winter season due to the continued snowfall events across the region as well as the cold weather. This surge in demand for salt can delay deliveries as we try to balance the needs of all our customers. We are working closely with the city and taking a number of steps to deliver on their road salt orders as quickly as possible."