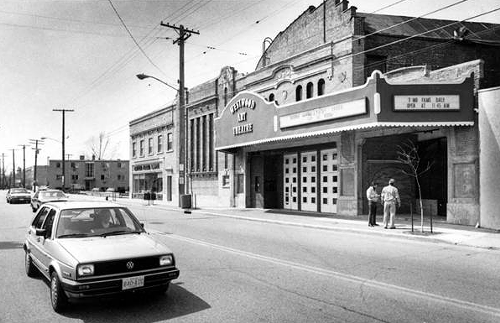 Photo Courtesy of the Cleveland Memory Project
The former Hilliard Square Theater in Lakewood AKA the Westwood Theater may soon face the wrecking ball after standing vacant for the last 25 years and suffering damages from superstorm Sandy last year.
The movie theater, which was built in 1927, has been issued dozens of repair notices over the last few years, including warnings for electrical, plumbing, and plaster problems- among others- and was officially declared a "public nuisance" last September.
Despite numerous attempts to refurbish and save the theater, owner Robert Dobush has conceded it may be time to see the ol' girl go.
"Right now, we're in the middle of negotiating the hows and whys and whens, and we're doing an asbestos survey," Dobush told Cleveland.com.
City officials initially gave Dobush until the middle of October to either bring the building up to standards or to have it demolished. They've since changed their tune and are giving Dobush additional time as long he continues to make progress.
You can read the entire article from the Cleveland.com, here.