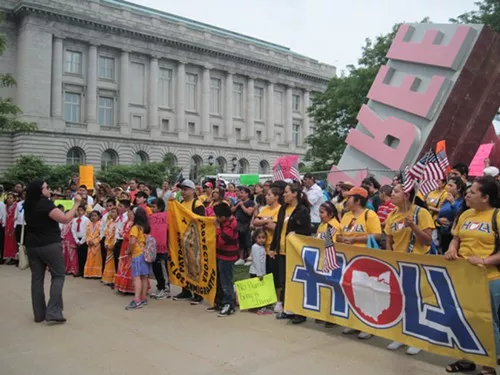 Now and then, a stone-faced federal employee would sort of emerge from the detritus of desks and chairs only to smear his or her face up against the window and get a look at what in the world was going on out there. Trumpets? Chanting?
HOLA Cleveland, an organization uniting Latino families in the area, was staging a rally outside the federal building on June 9. They were protesting the deportation process in which one Luis Padilla had been caught. His wife and children, visibly distraught, spoke at the event. There were some 250 people in attendance.
"My 6-year-old should not even have the word deportation in his vocabulary!" she said. "It's unacceptable. It's unjust. Stop terrorizing our families!" Her words echoed one of the more popular chants of the day: "Stop, ICE, breaking up our families!" Cleveland's ICE office approved Padilla's stay of deportation last week, though the office in Detroit immediately overrode that and sent Padilla into deportation proceedings.
The event, planned and organized in just three days, comes amidst a swirling national battle over immigration policy. Elizabeth Perez was one of the figureheads at the rally. She's catapulted to the forefront of the local advocacy movement over the past year or so, caught in her own nightmare. Scene profiled her family last month, featuring conversations with her and her husband (the latter now exiled to Mexico City, a locale he never knew growing up and certainly never loved). At the heart of the Perezes' story and the Padillas' story is the dramatic increase in deportations for non-criminals.
What's most bizarre about the anti-reform nuts is how hard-and-fast their interpretation of this one set of laws is. Legislation gets run through the amendment mill of Congress all the damn time. It's almost too clear that those standing in the way of reform talks — like the current H.B. 15, stalled by Ohio native and House Speaker John Boehner — draw from the same well that spits out xenophobia and worse.