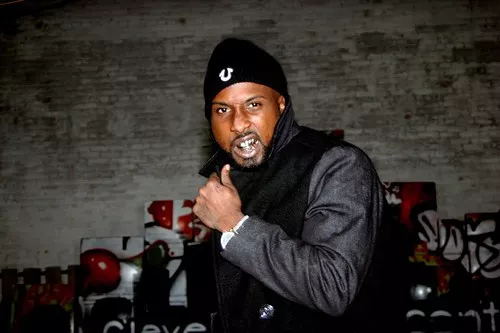 A 27 year-old Garfield Heights man named Deion Thompson was indicted yesterday in Cleveland's federal court on seven counts of heroin distribution and one count of illegal firearm possession. Thompson raps under the name "Sino Grams," an alias that was included in the federal indictment (embedded below). His birthday listed in court records matches the birthday listed on the Facebook page for Sino Grams.
Thompson/Sino Grams is accused of selling around a half gram of heroin six times from late May through early July, and attempting to sell a half gram on July 7 — the day he was likely arrested — while having a 9 mm pistol on him at the time. He previously had cases in the Cuyahoga County Common Pleas Court, including drug trafficking and weapons charges in 2008 and failure to comply with a police officer in 2005.
This time, the feds seized his 2008 Hummer, $5,430 in cash, his gun and ammunition.
On his Facebook page for his music career under the name Sino Grams, he describes himself: "Sino Grams from Cleveland Ohio 216 not your everyday hood cat. Eight6ent New Age Mafia we are the streets.. local rapper trying to get a check."
On there, he's been promoting his new video for his song "In The Kitchen," where he raps about drug dealing and guns (in a similar fashion to a Cleveland rapper Maceo Moore, known as "Chase", who was busted by the feds last year on drug dealing and gun charges, with content from his music and movie used against him). Check out the video here:
Here's a video of his performance at The Xecutive Lounge from the spring:
Here's the indictment: