NEIGHBORS IN ACTION
A proposal for turning the property at West 117th Street and Clifton Boulevard into park space has been presented.
With
plans for the Shoppes on Clifton development
raising eyebrows along the border of Cleveland and Lakewood, one local group offered an alternate proposal for the property.
According to Neighbors in Action, the community organization behind the park plans, the space "would be
a multifunctional green space positioned behind the current structure's magnificent portico,envisioned to remain in place as the park's focal feature." The group points out that Shoppes on Clifton developer Carnegie Companies' latest publicly available schematic has a void where the Fifth Church of Christ Scientist is now located - on the corner at West 117th Street and Lake Avenue. Group spokesman Jeon Francis notes that the church, vacant since 1989, has avoided demolition, though its future as a standing structure is still very much up in the air.
Neighbors in Action is working with Shaker Heights-based Bialosky & Partners Architects to sketch out the vision of the park space. The firm was involved with a 2002 effort to repurpose the church as a bookstore and cafe.
Current plans would include maintenance of the church's portico, which would anchor the lot's northeast corner at West 117th and Lake. Beyond the structure either tiered seating or a sloped lawn would extend into the parcel.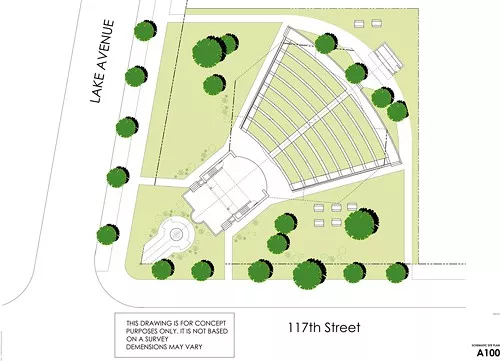 NEIGHBORS IN ACTION
Another option set forth would include tiered seating behind the church's portico.