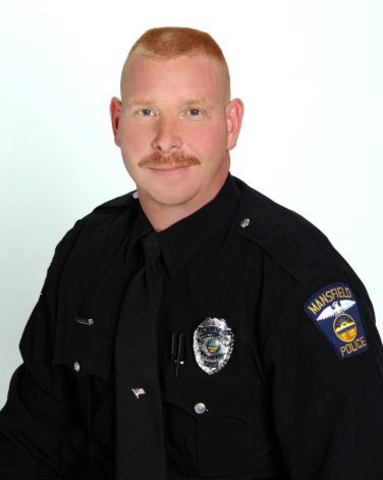 A Mansfield couple are suing their city and a now-former police officer in federal court, alleging the cop forced the woman to "perform sexual acts" in front of her husband to avoid getting arrested last year, and also harassing and taunting the couple.
The police officer, Michael Garn, was indicted on 40 counts, including 25 felonies (per the Mansfield News Journal at the time) this February. Some of the allegations made by the couple, who filed a complaint with the police department last October, appear to have resulted in Garn's indictment (other charges in the indictment are for wrongdoing Garn did unrelated to this lawsuit; click that News Journal link).
The suit says Garn wrongfully arrested a woman (who we won't name) last May for petit theft, and then told her "I can get you out of this but you have to do something for me... Think about what I said."
After the woman spent the weekend in jail, Garn, both on and off duty, forced the woman "to perform sexual acts on him to avoid her arrest." He made the woman's husband watch, telling the man "I can have and take your wife anytime I wand and you cannot do nothing about it."
The cop sent hundreds of text messages to the woman, it says, "belittling and berating" her husband, and threatening the her with arrest.
The woman filed a complaint with the police department in October and "given the seriousness of (her) accusations against Officer Garn, she willingly underwent the rigors of a stress test, and passed the same."
The couple are suing the city of Mansfield and Michael Garn for governmental liability, intentional infliction of emotional distress, negligent infliction of emotional distress, assault and battery, false arrest, and negligence (read the full suit below).

This incident was not public until now. Here's what the Mansfield News Journal
reported about the officer's indictment in February
:
Garn, 41, was indicted on 40 charges, including 25 felonies. More details of the case are emerging with Thursday's unsealing of the indictment.

Garn is charged with 17 counts of misuse of a computer, 14 counts of dereliction of duty, burglary, trespass into a habitation, attempted gross sexual imposition, attempted sexual battery, two counts of tampering with evidence, sexual battery and public indecency.

The initial complaint dealt with a conversation that implied evidence could be destroyed in exchange for a sexual favor.

"Destroying evidence in exchange for anything or without pursuing a criminal offense is a dereliction of duty," Mansfield police Chief Ken Coontz said.

Coontz detailed some of the other claims.

"There's another allegation of a case where he may have engaged in sexual conduct in exchange for not incarcerating a person," he said. "There were allegations that he was harassing a female that he stopped on a car stop and allegations that he was misusing his computer to run license plates on multiple co-workers and checking the license plates of cars that were visiting one of the female complainants."
Read the lawsuit below (we redacted all but the first initial of the two plaintiffs):