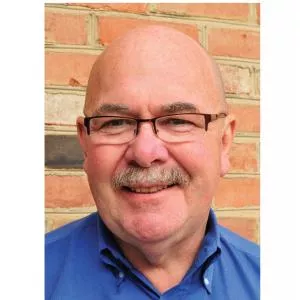 Norwalk Councilman Bob Carleton
Back in December, Norwalk Councilman Bob Carleton sent out a racist, sexist email to dozens of people.
On Friday, he came forward to say the email, which he sent from a personal Gmail account, was meant to be a joke and that the content of the message was humorous.

"In hindsight, I can see how it can be interpreted as racist ... but that wasn't my intent when I sent it. I thought it was humorous," Carleton told the Toledo Blade.
The email, riddled with grammatical and spelling errors, is written from the perspective of an African-Hispanic female student who performed well in a school spelling contest for A) being black B) "not bringin" drugs and guns to class C) "not getting pregnut during the cemester."
Carleton also makes jabs at the Affordable Care Act and affirmative action.
Courtesy of the Sandusky Register, here's a copy of the email he sent out to friends, former co-workers, and the city law director—
From: Bob Carleton [mailto:[email protected]]
Sent: Thursday, December 12, 2013 5:08 PM
To: wheddles; Bill Kaminski; Larry Waaland; Cheryl/Rich; Ron Myers; Ron Howell; Zach Jamison; Mark Zeeb; mark johnson; Jimmy D; [email protected]; Mark Schloemer; G. Stuart O',Hara, Jr.; Brooks Hartmann; Kevin Brownell; Mason Krebs; Steve Carleton; Deb Scheiber; dustan badovick; amanda uther; Matt Dysard
Subject: Spelling Bee Champ

My name be Eboneesha Hernandez, a African-Hispanic-American Girl who jus got a award for bein the bess speler in class. I gots a 47% on the spelin text and 38 points for being black, 10 points for not bringin drugs to class, 10 points for not bringin guns to class, and 15 points for not getting pregnut during the cemester. It be hard to beat a score of 120%.
White dude sit nex to me is McGee from Jaxon Mizipy. He got a 94% on the text but no extra points on acount of he have the same skin color as the opressirs of 150 years ago. Granny ax me to thank all dimocrafts and liberuls for suportin afermative axion. You be showin da way to true eqwallity.
I be gittin in medical skool nex an mabe I be yo doctor since Barrac takn over da healfcare in dis contry.
As of today, the councilman has not apologized for his actions, and no disciplinary action has been taken, though the city council was scheduled to meet last night to discuss the incident.
Even more repulsive, perhaps, are the comments making light of the councilman's email on the Sandusky Register's site—