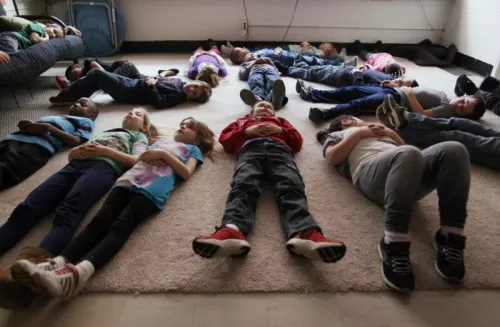 Image: Akron Beacon Journal
Idle bodies are the Buddha's workshop
While Strongsville continues to struggle with its eons-long teachers strike, the Akron Beacon Journal reports that parents and students in Plain Township north of Canton have finally triumphed over a more perilous scourge: infidel Buddha-worshipers and their occult "mindfulness" agenda.
After a pilot so-called mindfulness program at a local elementary school yielded positive results in 2011, schools district-wide adopted aspects of the practice, including breathing exercises and meditation. Jody Ditcher, the principal of Warstler Elementary, the school that piloted the program, told the Akron Beacon Journal last December that she "[couldn't] imagine running a school without it," attributing the school's surge in statewide performance index rankings to student mindfulness training.
But amid cries of protest from parents, district superintendent Brent Mays recently ordered all Plains schools to discontinue mindfulness practices, citing concerns that the exercises elided the separation of "church and state" and were "linked too closely to Eastern religions like Buddhism":
"There was no malice from anyone in the district to bring something in that was not appropriate… As we kept digging and researching, we found the roots to it," Mays explained.
Nice gumshoeing, Brent! Way to suss out mindfulness' dodgy past. Sources say it was also spotted rolling a spliff at Bonnaroo last year, never called Morgan back after they hooked up at Ally's party, has like twelve unpaid parking tickets, and this one time got really wasted and totally streaked through the student union building. Not appropriate!
"They were taking valuable time away from education to put students in a room of darkness to lay on their backs," complained the vice president of Warstler's PTO. It was basically Abu Ghraib. Kind of like how Strongsville High School is basically Auschwitz.
Administrators are hoping next year's scheduled Black Mass and ritual soul-reaping seminars will be met with better reception.