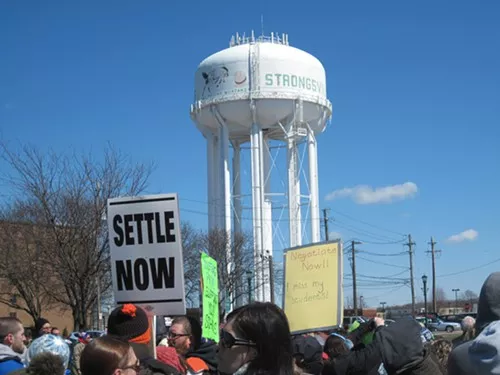 ERIC SANDY/SCENE
After an eight-week teachers strike, the union and the school board have landed on an agreement. Normalcy returns to the district's schools on Tuesday.
After eight weeks of teachers hitting the picket line and fighting for improved
working conditions
financial fine print, the
Strongsville teachers strike
is over.
The school board met for a hot minute Sunday morning to approve the revised contract with a unanimous vote. For all the hootin' and hollerin' over the past two months, the finalized details don't stray too far from the board's most recent offer, presented April 14.
New contract stipulations include restored step and column pay increases, revised teacher evaluations protocol, increased teacher input on health premiums (10 percent to 20 percent) and more. The full contract is available online.
The dramatic news prompted the board to cancel classes on Monday, allowing the students, their replacement teachers and the incoming employees to take a breath and bid adieu to the alternate reality in which they've been living.
Replacement teachers, who have essentially kept these schools in working condition for the duration of this thing (hats off to ye), will be in the buildings from 7 - 10 a.m. Monday to collect their belongings and share moments of reflection with students and community members interested in stopping by. The district's formerly striking teachers will gain entrance to their classrooms at 2 p.m., ensuring no interaction between the two groups. That sort of scheduling goes to show how divisive things will remain. (Wouldn't returning teachers want to touch base with their substitutes?)
It's a sure bet that the past two months have translated into the city's short-term legacy. What awaits in the coming years - and during the next round of collective bargaining in 2015 - is a guaranteed doozy. Scars like this tend to run deep, and community members are fluctuating between tentative optimism and concern for how Strongsville will move forward. Dig the SEA's Facebook page and the Strongsville Community Action Committee's Facebook page for all the public opinion you'll need (or, rather, not need at all, but lascivously want).