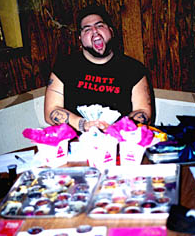 The Best of Cleveland 2012 issue is online and on the streets now. Read it, love it. In addition to the usual categories, there were some offbeat staff picks. We'll be posting them here over the next few days.
Best Craft Show for People Who Don't Need Crocheted Blankets: Bazaar Bizarre
The craftspeople who set up shop at the annual Bazaar Bizarre have two things in common with your Aunt Betty: They make their own Christmas gifts, and they like cats. But unlike your "creative" aunt, the Bazaar Bizarre folks aren't knitting ill-fitting winter hats or sweaters. And if they are, they most likely have the word "bitch" emblazoned on them somewhere. The vendors here are young creators whose wearable art includes everything from T-shirts to bracelets to trinkets you can hang from your leather jacket. You can also find coasters, posters, and magnets — all celebrating Cleveland and a side of life your Aunt Betty probably never walked on. Appropriately, Bazaar Bizarre takes place inside the dark and cavernous 78th Street Studios, and is accompanied by the sounds of alternative music. And it happens every year during the holiday season, so you can pick up a couple of fang-baring snowman ornaments for your more daring relatives.
bazaarbizarre.org/cleveland.html