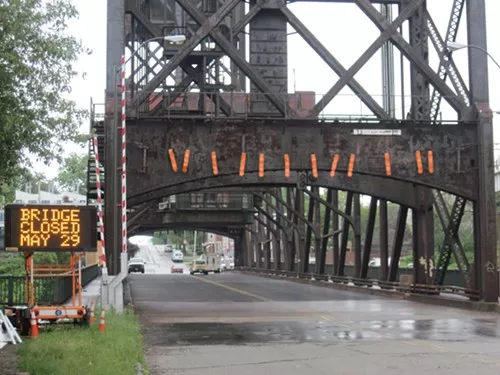 ERIC SANDY/SCENE
Columbus Road Bridge will close at 7 a.m. Wednesday, May 29.
If Columbus Road is your go-to artery for gettin' into Cleveland, then apologies are due to your poor tires. Also, unrelenting bad news for your commute kicks in tomorrow.
The Columbus Road bridge is going to shut down at 7 a.m. Wednesday for a long-needed $34-million, 371-day rehab project.
Getting into and out of The Flats is already a nightmare. Losing hubcaps almost daily as your '03 Civic dips into yet another cavernous pothole on the west bank is no fun. And, frankly, neither is trying to navigate the concrete wormholes of Columbus Road. But at least the route was direct.
Who really enjoys that shitty intersection at West 25th and Main and Washington? Eh, it doesn't really matter now; we're going to have to get used to that.
The city advises former Columbus Road sojourners to cross the river at Center Street and get the hell outta Dodge via West 25th, which is, of course, never a clusterfuck to drive down at rush hour.