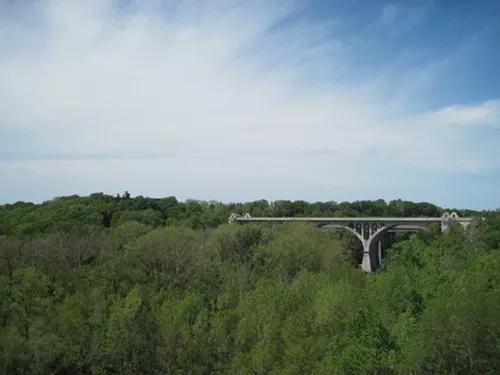 ERIC SANDY/SCENE
The Hilliard Road bridge looms in the distance.
John Horton's Road Rant column (likely the PD's only regular column that actually pushes for - and accomplishes - some semblance of real change in this region) points to a
budding problem
for Valley Parkway pedestrians.
And for Hilliard Road drivers, it would seem.
The underside of the Hilliard Road bridge is crumbling apart, and chunks of debris are falling onto the all-purpose trail below. Horton writes that one hunk o' concrete clocked in around 20 pounds. And he's right when he adds that that could put a hearty dent in some unsuspecting speed-walker's dome.
The pending solution?
Safeguards will be installed within a few months given concerns. Debris netting will be wrapped around the bottom of the bridge to prevent concrete pieces from dropping, according to Jeff Horvath, chief section engineer with the Cuyahoga County Department of Public Works.
Horvath goes on to add that it's a tricky thing staying ahead of concrete fractures and structural hazards. (But... your department's job... what?) But he does stress that the overall structure of the bridge is perfectly fine.
So please do ignore the falling rocks from above.