COURTNEY ABBOTT/SCENE
Members of the one-off band CLE-Zoo rock out onstage at the Grog Shop.
With all due deference to, you know, the Civil Rights Movement, it's worth pointing out that sit-ins hold a special place in jam lore.
Save for the cultural and political revolution, Cumulus Entertainment set out to explore that practice last night during the first "Hybrid Sessions" show at the Grog Shop. The members of C-Level and Wanyama joined forces to create CLE-Zoo, and the members of Broccoli Samurai and Aqueous shared the stage as Brocqueous.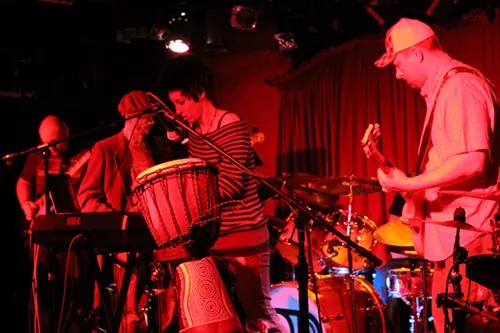 COURTNEY ABBOTT/SCENE
Quadrophonic Desperation opens the show at the Grog Shop.
Concocted as a fun experiment for several notable local and regional jam bands, the Hybrid Sessions show explored the art of improv and the revitalization of working with people outside the individual bands these guys have created.
Filling out the stage with nine musicians from C-Level and Wanyama, CLE-Zoo set a funky needle to the vinyl of the night. Emcee Brandyn Lowry's lightning-fast flow led a wide spectrum of musicianship as the band wound through an early Chili Peppers-style, high-energy set.
Aqueous and Broccoli Samurai each took 20 minutes or so on their own, offering up an abbreviated set of music. The prog influences of Buffalo-based Aqueous presented a great complement to the rowdiness of the first half of the night, and guitarists Dave Loss and Mike Gantzer fused well with the cats from Broccoli.
For those who had seen any of the bands' live shows before, last night's gig was a special event. But for the uninitiated, it also served as an enticing primer, helping to urge on new fans of the music. Considering the Grog's size, the whole evening was fairly intimate and, given the friendly, laid-back nature of jam shows, everyone got a chance to mingle and talk shop as the bands look forward to ongoing touring in and around Cleveland.
Quadrophonic Desperation opened the evening's festivities. The crowd hadn't grown much at that point, but the band threw down a seriously impressive set. One thing that really stood out was the band's penchant for switching the tempo up throughout a jam. Drummer Anthony Payne showed off his chops as he helped lead the band throughout psychedelic waters.
Note: Quadrophonic Desperation, C-Level and Broccoli Samurai will be playing EarthFest tomorrow at the Cuyahoga County Fairgrounds.