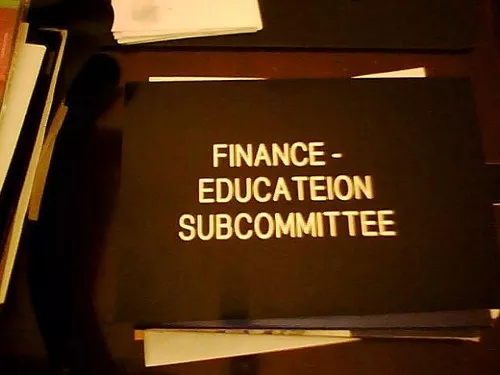 The Ohio Senate's new Finance Subcommittee on Education, chaired as of last week by Senator Randy Gardner (R-Bowling Green), is off to an auspicious start with this droll little spelling gaffe (via NPR).
In vaguely related news, the Ohio Department of Education recently issued guidelines for its "Third Grade Reading Guarantee Policy," which seeks to "diagnose reading deficiencies in students at grades kindergarten through three, create individualized reading improvement and monitoring plans, while also providing intensive reading interventions." New legislative requirements for elementary educators include strengthened diagnostic testing to identify students as either "On-Track" or "Not On-Track" — those deemed off-track will receive a battery of monitory letters home and "intensive remediation services."
Did you fall asleep during that last paragraph? I did, and so did the Senate! Let's face it: standard usage is a snoozefest. Tacitly snubbing the ODE's new guidelines is a fun and cheeky way for senators to show kids that being "not on-track" in literacy is tantamount to being "on-track" for an illustrious congressional career.
Unfortunately, they caught the error before mounting the sign, imputed the blunder to the sign-maker, and cruelly revoked years of potential educateional hilarity.