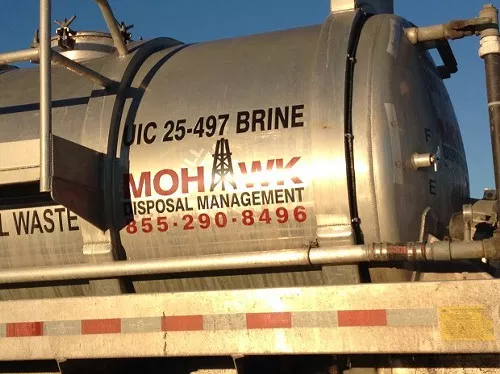 Image: Shalereporter.com
A brine truck near the dump site
Last Thursday the Ohio Department of Natural Resources permanently revoked operating permits for Youngstown-based D&L Energy Group and Hardrock Excavating Company after Ben Lupo, the CEO of both companies, admitted to authorizing the disposal of 20,000 gallons of fracking wastewater, including oil, brine, and mud, into a storm sewer that empties into the Mahoning River Watershed.
The ODNR, which found out about the incident through an "anonymous tip" from an insider, arrived on the scene and caught two brine-hauling trucks in situ; though officials had received several tips about suspected illegal dumping throughout January, they deemed initial notices "not actionable."

"Ohio has enacted some of the most comprehensive oil and gas regulations in the nation to safeguard the public and the environment," said ODNR Director James Zehringer last week in a press release announcing the permit revocations, presumably referring to last year's Senate Bill 315. Zehringer almost has it right: if you insert "not" in front of "enacted" and "safeguard," the man is laudably on point. In actuality, SB 315 ensured that Lupo and other energy magnates aren't required to disclose proprietary chemical compounds used in their fracking fluids, nor must they notify the public of drilling permits; there's also no provision in the bill for residents or companies neighboring fracking sites to appeal the issuance of a drilling permit.
So basically, were it not for the company insider who tipped off ODNR inspectors, Lupo's dumping could have proceeded unfettered; Youngstown residents were clueless about Lupo's waste disposal procedures, and Youngstown City Council President Tito Brown found out about the dumping on "social media" when he was just trying to figure out what all the fly honeys were up to last weekend. And as per SB 315, chemical disclosure records aren't mandated except in the event of medical emergency, so it's possible Youngstown-area residents will never know what contaminants Hardrock released into the Mahoning, though area hard rock enthusiasts are "crossing their fingers for sweet-o axes signed by Joe Perry and Tommy Iommi."
The ODNR and Ohio EPA teamed up last week to dispatch vacuum trucks and other containment materials to the dump site, but the thaw last week didn't help cleanup efforts: Ohio EPA Director Scott Nally projected increased difficulty in containing the disposed waste as melting snow floods Mahoning tributaries. The EPA reports so far that, in addition to the tens of thousands of oil and waste water recovered at the site, they've found 42 cubic yards of oiled debris and 29 yards of "oily solids," the latter unfortunately not referring to bullshit energy interests that continue to stymie more aggressive regulatory efforts that would preclude this type of violation.