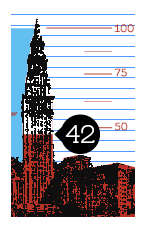 Your guide to living in fabulous Cleveland.
WTF, Doc?: Schools dish honorary doctorates like Halloween candy. But only one of Frank Jackson's top aides would think the paper is legit enough to dub herself "Dr." Valarie McCall in emails. She's also reportedly been seen trying to pay for lunch with Monopoly money.
Please, Let Us Help: Barre Cleveland, a new East Side women's fitness club, tries to intimidate a local blogger who mentioned classes were pricey. We will not give the blogger a bigger megaphone and mention how i unprofessional Barre Cleveland were. Nope. Not gonna do it.
Dunham Country: Oberlin ranked one of the best and most affordable cities in which to retire. Also, for weed and coeds. But mainly that fiscal responsibility thing.
This Week's Index: You're sunning yourself at Edgewater Park and you don't even care that you're at Edgewater Park.