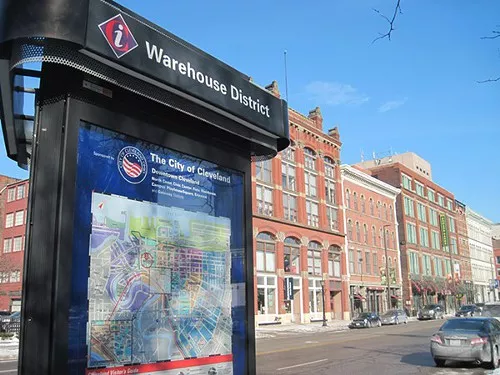 In Warehouse District news, the community group "My Neighborhood" held a forum to discuss resident issues last week at which an articulate contingent voiced their opposition to the "night club" culture on W. 6th. Surprise surprise.
Councilman Joe Cimperman's opinion, i.e., that there are already enough liquor licenses in the Warehouse District, was greeted with literal whoops and hollers at Liquid, the nightclub and inauspicious host. Cimperman's crusade to shut down misbehaving downtown clubs was a recurring story in 2013, but he said that the state of Ohio benefits from liquor licenses, and more residents need to show up at hearings if they want their voices heard.
Mayor Frank Jackson spoke as well and said that he hopes to attract upwards of 25,000 residents to downtown over the next few years.
How? the audience wanted to know: By luring resident-relevant businesses and ensuring that young families have high-performing schools in the vicinity. In general, Jackson argued, the prevailing attitude should be conceptualizing downtown as a neighborhood, not exclusively an entertainment district. (You may have noticed street signage around W. 9th and W. 6th lately that proclaims the Warehouse District as Cleveland's "First neighborhood.")
Scene is also tickled to report that Jackson was considerably more interested in the Heat/Thunder pre-game on ESPN than his co-panelists mini presentations.
As a potentially earth-shattering side-note, the Historic Gateway Neighborhood Development Corp's Thomas Starinsky said that there was a "serious expectation" that construction for a newly imagined public square would begin in 2014.
In a follow-up phone call, Starinsky confirmed that attracting more night clubs to the neighborhood would be a "missed opportunity." Instead, he said, the Warehouse District is working to diversify its offerings — "introducing more retail," "a diversity of restaurants and price points," "maybe live music" — but that the district is already uniquely mixed-use, and that development should and will continue to capitalize on other development happening downtown.