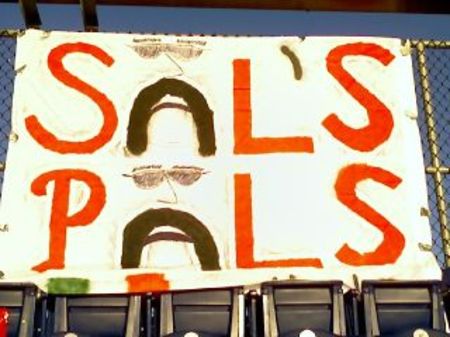 Your early-bird special (except today, obviously) full of delicious sports links, because sports patties aren't nearly as tasty.
— MVP pieces are usually pretty boring, but John Hollinger's recent piece on LeBron's 2009 campaign is different. According to the Hollinger PER ratings — a complicated formula I only pretend to understand when talking to girls who like basketball — LeBron is on the brink of having the best season ever... in the history of the game.
Add it all up and James' 31.69 PER through Sunday's games isn't only the best in the league, holding off a stern late charge by Miami's Dwyane Wade — it's second only to Jordan in the past 35 years, and if James has a strong closing finish, it could end up as the best.

Even if he fails to match Jordan's all-time mark, he's already on hallowed ground. While Jordan's PER exceeded 31.0 on four different occasions, no other player in history had done it until James this season.

That snippet doesn't even begin to tell the whole story. Hollinger breaks down how LeBron's numbers — which are great this year, but don't appear legendary — compared to the all-time best seasons from Jordan, Kobe, Shaq, etc., and concludes that we all need to give the King his due. Read it now. (ESPN.com)
— If you don't look at Sal Fasano and his magnificent mustache and immediately feel a pang of regret that he's no longer with the Indians, there's something wrong with you. (Big League Stew)
— There's a dynamite interview between Let's Go Tribe's Jay Levin and Tribe Assistant GM Chris Antonetti in the Indians Annual 2009. There's also a ton of stuff that didn't make it to print. Jay's posting that stuff over at LGT and the first installment — a conversation about relief pitchers, anxiety, and valuing closers — is up now. (Let's Go Tribe)
— Jodie Valade breaks down the Cavs' pre-game rituals, which, coincidentally, comes after James and Shaq went head-to-head in a little pre-game-ritual-off after Shaq called the family portrait routine "weak." Imagine if the rumored Shaq trade had actually gone down. The Cavs would have immediately vaulted to the top of the all-time Most Ridiculous Pre-Game Ritual standings. (Cleveland.com)
— Chris Cooley says, "I would be pissed if I got my a** shipped to Cleveland." Fans get upset. Chris Cooley responds as only Chris Cooley can. (Chris Cooley 47)