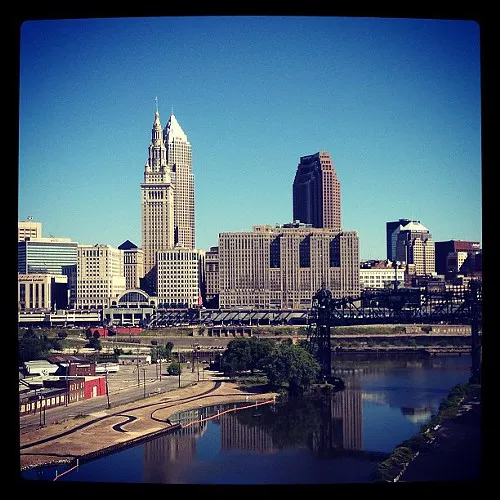 Photo Courtesy of Instagram User andysimon64
Gogobot, a site where some 3.7 million travelers worldwide share recommendations, experiences, and photos for personalized trip planning, released its latest round of Travelers' Favorites Awards and little ol' Cleveland, OH is walking away with honors.
Right behind Medellin (Colombia), Accra (Ghana), and Tbilisi (Georgia), Cleveland has been voted the fourth most popular "Rising Star" destination in the world, meaning visitors believe the city's primed to take off and will likely see an influx in national and international tourists in 2014 and beyond.
From the 86,000 Gogobot visitors who've been to Cleveland, our city earned a 3.5 star approval rating out of 5. And our eateries, specifically Bar Cento, The West Side Market, and Slyman's, received 4 to 5 stars apiece. Cleveland was also rated one of the most budget-friendly travel destinations in the world— can't argue there.
Here's the full Gogobot bio of Cleveland:
"Nestled along the shores of Lake Erie, Cleveland is pulling out all of the stops to return to the glory days of its industrial boom era of the 1870s to 1960s. Although the past recession dealt them a slight setback, the stalwart Clevelanders are determined to prevail. Venture in one of Cleveland's many ethnic neighborhoods such as Little Italy or Slavic Village and you'll find no shortage of delicious restaurants. Stroll down Euclid Avenue, which was known for its prestige and elegance. In the late 1880s, writer Bayard Taylor described it as "the most beautiful street in the world."
And here's the list of Gogobot's top 20 "Rising Star" cities:
1. Medellin, Colombia
2. Accra, Ghana
3. Tbilisi, Georgia
4. Cleveland, U.S.
5. York, UK
6. Oakland, U.S.
7. Sao Paolo, Brazil
8. Hanoi, Vietnam
9. Houston, U.S.
10. Lviv, Ukraine
11. Brisbane, Australia
12. Kuala Lumpur, Malaysia
13. Beirut, Lebanon
14. Yangon/Rangoon, Myanmar
15. Cape May, U.S.
16. Osaka, Japan
17. Toronto, Canada
18. Valparaiso, Chile
19. Santa Barbara, U.S
20. Cardiff, Wales
To see which cities took home the other awards, including World's Best Hotels and Top Destinations, head on over to Gogobot.