"O - H —- shiiiiiiiiiiiit"
The postmortem on the big USC game has been covered more eloquently elsewhere than I could ever muster here. Bottom line: This wasn't a case of OSU's athletes being greatly outmatched by USC's athletes. This was a case of Jim Tressel doing what Jim Tressel does.
I was in Columbus for the big game weekend with Cleveland Frowns and Spencer Hall.
Wandering down High St. Saturday afternoon, sauntering a couple of miles to a friendly tailgate, circling the parking lots taking in the scenes and meeting some great people, sluggishly making our way back to our abode for the game — we all agreed, this was a subdued atmosphere.
More than anything, looking ahead a couple of hours to the battle under the lights, it seemed as if every Scarlet and Gray honk on campus was practicing self-preserving measured optimism. And I mean very measured optimism. The track record too long, too defined, too daunting to do anything else.
After the final whistle had blown and a group of OSU fans sat around a house going about their regular evenings after a few moments of silence, the full reach of this natural act of self preservation was evident. Hell, it was clear in the third quarter when Jim Tressel was milking a five-point lead like he was coaching Florida and was up 50 on Troy.
"You know how this is going to end."
"I think Tressel just wants Pryor to take knees from here on out."
"Check out Tressel's pants — he's got field goal woody."
"He wishes he had Woody in his pants."
"Field position porn is Tressel's fetish."
And some tweets from Spencer while watching with us:
"Jim Tressel thinks that CD sounds like a fine investment at 3.5%."
"Jim Tressel thinks you people are crazy for getting in those lifeboats. The Titanic is UNSINKABLE."
"Tressel will now sit on this lead like Sasha Grey on a ten-incher." (First time Tressel and Grey have been in the same sentence?)
And they kept flying, each more absurd and still more true than the last until the inevitable came to fruition — a long drive by a talented USC offense that was heretofore held in check by a valiant OSU defense.
Spencer mentioned that none of us seemed too shook by the disastrous turn of events. Yes, they were disastrous, but expected. Dr. Saturday over at Yahoo! has a fantastic, if but utterly depressing, breakdown of "Tresselball" today, and it goes about just how you would expect.
When I watched the game live, I was struck by what I considered poor playcalling and mediocre execution. But after watching the game again in detail, going over replays and studying all the players, I'm convinced the situation in Columbus is nearly hopeless. For all the talk of Tressel's buttoned-down, conservative approach, and how his teams don't make mistakes, the most basic and fundamental errors permeated throughout Ohio State's offensive plan like cancer in its late stages, and the only conclusion I could draw from this game is that Tressel — whatever he may be as a motivator, a recruiter, a teacher of technique or as a disciplinarian — is not up to the challenge of leading his team past others that equal his in talent. He is not good enough of a tactician to win against the national elite who, unlike practically everyone he schemes against in his conference, have the talent to match Ohio State's, and those are the only games where coaching really matters. With his facilities, talent, and resources, winning the Big Ten is not the test.
Spoken or not, this was known, at least deep inside somewhere, by Buckeye Fan even before kickoff. If Pete Carroll is "Big Balls Pete," then Tressel might as well be "Blue Balls Jim." (And if you don't think the Tressel/sex jokes weren't flying around as well — most of them too crude even to be printed here — then you are crazy. Let's just say: Final Score 1-0, Jim Wins, and for the last five minutes, he was just running out the clock.)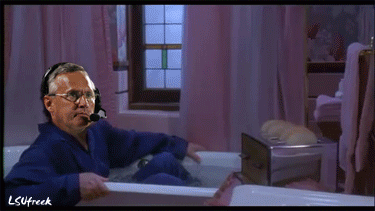 Freaking Groundhog Day around here, right?
It was no mistake, then, that as we strolled around the OSU campus on Saturday that the majority of the chants began not with "O-H" but with "Here we go Brownies." See, Frowns was wearing a Browns shirt, but that doesn't explain it all. A night game, the biggest match on OSU's schedule, a chance to redeem a half-dozen national embarrassments for the program, by far the most prestigious game on the college football slate of the day, and God himself could have shouted down from the heavens "O-H" and be met with nothing but a chill, measured response that day. We knew. Everyone knew. The first half might have been a shock, but everything that followed went just as expected.