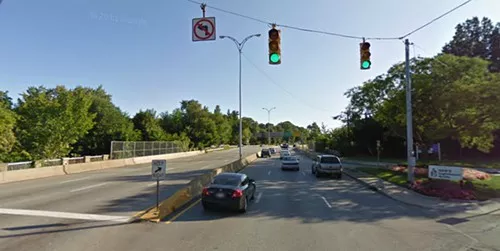 GOOGLE MAPS
Life resumes today!
After a
grueling two weeks
of having no access to the beloved West Shoreway, the barrels and signs have disappeared. The storm is gone.
Yes, yes, that beloved section of State Route 2 jutting westward outta downtown has reopened. To the casual news reader of Cleveland (and specifically west side commuters, duh), it's as though He himself hath risen. Earlier this morning, in fact, several lost souls were seen hunched over and shaking, putting depraved lips to long-absent asphalt in a gesture of love. It was, in a word, beautiful.
Now can we puh-leeze go back to bitching about normal things like Police Chief Michael McGrath's vacant stare and those gawddamned RTA bus drivers' bloodlust?