ERIC SANDY/SCENE
City Councilman Brian Cummins addresses the crowd.
Following the police department's abrupt announcement on Monday that Second District Commander Keith Sulzer would be "stepping down," hundreds of area residents gathered Tuesday evening to demand his reinstatement. The crowd was agitated and curious.
"If the new chief wants to rearrange his leadership, then tell the public that's what you're doing!" Ward 14 Councilman Brian Cummins joined the residential outcry. He was flanked by council colleagues Joe Cimperman, Kevin Kelley and Matt Zone, all of whom represent wards that include portions of the second district. Cummins continued: "Don't hide behind the person that I can only imagine is being forced out. Don't hide behind him and say that he's resigning!"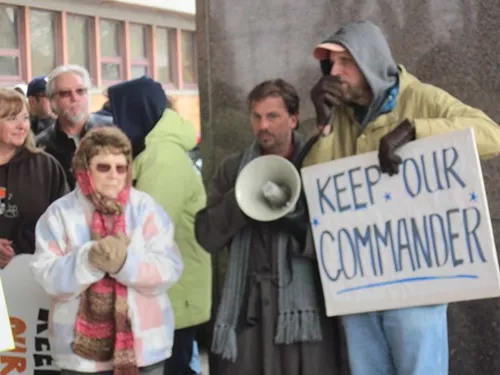 ERIC SANDY/SCENE
Bob Shore reminds residents to attend April's Second District Community Relations Committee meeting.
Neither Sulzer nor the department offered an explanation for the move. Conjecture, of course, abounds. But it's the constant line of unanswered questions that speaks to the community's emotions this week. Residents in the district are not accepting this move without cause.
Bob Shores, co-chair of the Second District Community Relations Committee, encouraged all residents to continue voicing their concerns and to attend the committee's next public meeting at 7 p.m. April 8 at the Applewood Center (West 25th and Daisy). Police Chief Calvin Williams and newly instated Second District Commander Thomas Stacho have publicly announced that they will be in attendance at the April meeting.
"Words cannot express how deeply impacted we are by this news," Shores said at the rally. "I'm just a neighborhood guy...Commander Sulzer has done an exemplary job of helping to build bridges, and we are all living in better neighborhoods because of Commander Sulzer."
Shores briefly addressed resounding suspicion that the rearrangement of leadership has either something to do with the Nov. 29, 2012, police shooting (during which Sulzer was not in town) or further exemplifies the culture of insider politicking at the Division of Police.
"When [Ohio Attorney General] Mike DeWine said that this incident of November 2012 was a systemic failure, that means the systemic failure goes straight to the top," Shore said." Chief McGrath - now Director of Public Safety McGrath - is part of that systemic failure. What happens to him? He gets promoted."
Chants of "Recall Frank Jackson!" and "Bring Keith back!" filled the air outside the Second District HQ on Fulton Road.
West side resident Aaron Frye was in attendance and seen wearing a sweatshirt featuring second district police; Sulzer's image was prominent.
"He's made a difference in this community since he's been here. I grew up around here and I noticed a big change in the time he was here," Frye told Scene. "The crime has gone down. The killings have gone down. The drug sales have gone down. You know? It's ridiculous that he's stepping down, and I want to know why."
More than 1,300 so far have signed a MoveOn.org petition to reinstate Sulzer.