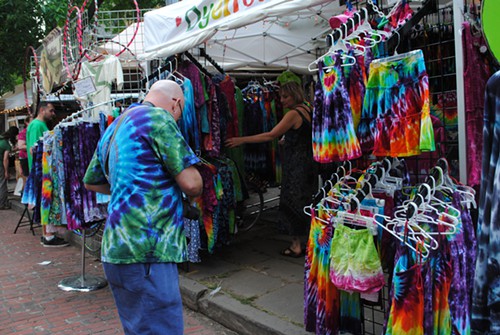 The pre-Memorial Day Hessler Street Fair, which took place last weekend, is mecca to the tie-dyed, sandal-wearing, granola-eating crowd. The two-day festival takes place on a brick-paved street in the middle of the Case Western Reserve University campus, whose old homes and apartments — miraculously not razed to build yet another gleaming new classroom building or sterile dorm — still seem to exude the patchouli and pot aromas of their '60s residents (some of whom still seem to be extant). It's been going on, with a gap from the mid-80s to the mid-90s, since 1969.
So when CWRU campus/community radio station WRUW-FM 91.1 — which has long simulcast the event's entire lineup of jazz, folk, reggae, jam, and world music — announced a few months ago that it would broadcast only the first day, we got several outraged emails from event supporters. They darkly claimed there was anti-hippie bigotry and a disrespect for their elders among the station's student staff members.
It was nothing as sinister as that, said the WRUW staffers who manned their table at the fair this past Saturday. DJ/station promotions director Roger Ganley said it was simply a matter of logistics. "We only have two engineers who can do live sound, and they both had weddings to go to this weekend," he said. He added that running live sound is more complicated than running the studio board and isn't something that people can be trained for quickly, although they're already making plans to make sure they have enough people trained for next year.
But as dusk fell Saturday, the WRUW volunteers were taking down their table. Apparently not mollified by their explanation, the Hessler Street Fair committee told them that since they weren't broadcasting Sunday they weren't welcome to set up their stuff. Seems like someone forget the "peace and love" part of being a flower child.