Fred Nance, managing partner for Squires Sanders and Dempsey and consigliere to Cleveland's ruling caste, sat in the middle of the commissioners' board room last Thursday, a toothy smile he couldn't wipe off his face. Waiting for the meeting to start, people killed time by coming up, asking him the obvious. "Good day? Ha-ha." "We think so."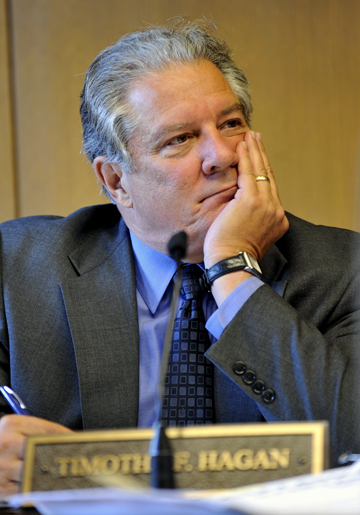 Commissioner Tim Hagan, waiting for a colleague to come and give him the quorum he needs to adjourn as usual to behind closed doors, saw the press start to huddle closer to Nance. He told him to go and wait there with the final details of the development deal for a new medical mart and convention center. The public can keep waiting.
They adjourned, and returned a half-hour later with even bigger smiles. Even Commissioner Jimmy Dimora creaked one past the frown. Then Nance was called to his favorite place, the spotlight, to highlight what everyone already knew about the deal. Sigh.
"We believe very strongly that this investment — our own stimulus package as we look at it — will benefit the community in the long term," said Hagan. "We believe it will change the face of Cleveland and Cuyahoga County."
Really? A Medical Mart? The Plain Dealer had just illustrated how the billion-a-year estimates of annual economic impact were grossly overestimated by Nance, the Greater Cleveland Partnership and Christopher Kennedy of Chicago-based Merchandise Mart Properties Inc. This is the Camelot-raised Kennedy who taxpayers are paying more than a half-billion dollars to build and run the complex — and collect all the profits. But Nance, whose firm will compete with Calfee Halter to make millions servicing the bonds in this deal, says it shouldn't matter how much the numbers have been cooked.
"The public investment is just under a billion [over 20 years]," said Nance. "If the billion[-a-year] estimate is off by 75 percent, we get our money back in less than five years. And then we get another 15 years of economic activity. That more than justifies the public expenditure. None of this is science, none of it is exact, but by order of magnitude, this is a no-brainer."
And if I win the Mega Millions, and take the lump-sum payment, then after taxes I'll have …
Eighteen months after a sales tax hike was shoved down our throats by Dimora and Hagan — who came out of retirement to push a popular Democrat out of the way to Get This Shit Done Already — the development deal, in principle, is done. After a few more weeks of negotiations with the city over how little the county should pay to take over the land there, Hagan says it will be officially announced that his allegiances to the Kennedy family and its desire to build on the Mall B and C site are greater than to his old-time friend and contributor Forest City, who just can't seem to shut up about their Tower City location. Well, maybe he didn't say it quite like that.
Essentially: Though a Greater Cleveland Partnership study predictably found its landlord, Tower City, to be The Site, MMPI has found that study to be Full of Shit.
At a public hearing the day MMPI came to town to explain why Tower City was out, mainly due to finding that the Mall B and C site would cost about $100 million less, Forest City executive David LaRue railed against now being shut out of the process and promised to return in a few weeks with a plan that would finally be the cheapest. Chris Kennedy presciently shot back: "If [you had a plan to] save $125 million for the city of Cleveland, you should have spoken up earlier."
Ooo. Burn.
"MMPI is not going to that site," said Hagan after last week's meeting, "so I think [Forest City] is shadowboxing. It wouldn't make any sense for them to continue to fight this. There's nobody to fight with."
So the shovels are about a year off. Now, MMPI will get with the design firm and development folks they get to hire, as a private entity, without public bidding and craft something that'll be directly profitable for them and only them.
"The reason we're doing this — the county is doing this — is not to make a profit in the operation of the center," said Nance. "We wanted to give the profit motive to a private developer. The county's interest in this is generating economic activity."
Yes, it's a cozy arrangement for all involved. We're pretty sure that Hagan, who is so close to the Kennedy's that he is godfather to one of Caroline Kennedy's kids, went home and had the best rich-person sex he's had since the last Big Deal went down.
"Some of us have been around," he said, "and we went through this for Gateway and the Rock Hall and the Science Center. It takes a long time for a city to change its direction and this is only a part of that. I'm sure there'll be other projects in the future. I'm just excited to be one of the people who participated in this one too."
Ladies and Gentlemen: We give to you the Tim Hagan Center for Conventions and Medical Shopping. Please watch your step. And your wallets. — Dan Harkins