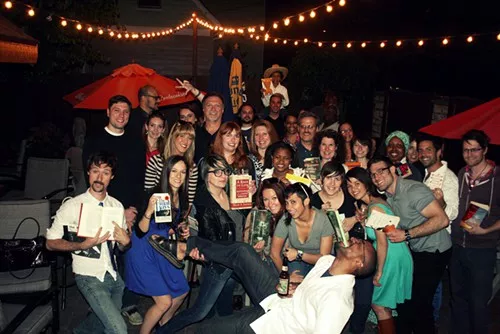 Book clubs are so…passé. At least in Cleveland now, thanks to a trio of young professionals who have started the Booker T. Cleveland Society of the Learned. Fashioned after the Book Club, a Paris literary salon event that has become the place for 20- and 30- somethings to be seen in the City of Lights, our hometown version is believed to be the first of its kind in the U.S.
This is no ordinary book club meeting. For starters, the first Booker T. gathering was at the Flying Monkey in Tremont a couple weeks ago, where $2 PBRs went a long way to move things along.
This is a book swap. Everyone must bring a book they love and trade it with someone who has brought one they might be interested in.
Promoted through Facebook, as these things increasingly tend to be, 50 people who mostly didn't know each other showed up to drink and try to talk up their books to a person toting a volume they coveted most. There was Conrad and Faulkner to Rushdie and David Foster Wallace. There were memoirs, biography, history, botany, and tomes of self-help.
And many new friends were made—which is mostly the point.
Organizers Natalie Tallis, 24, a Beachwood native and marketing manager, and Ivana Batkovic, 28, a publications manager at CSU who hails from Bosnia originally but considers herself "from here" now, were extremely excited about the inaugural turnout and for the second meeting have secured a larger venue. It will be at 6:30 p.m. June 15 at Felice Urban Café on Larchmere.
Be sure to get there before happy hour ends at 7 p.m. to scarf some cheap Felice appetizers, which Tallis proclaims are "amazeballs!"
Just remember—no book, no admittance. And pick a good one, some who went to the first Society soiree are vowing to bring a book so fantastic that theirs will be the "belle of the ball."
And it's worth mentioning, in case you're wondering, the idea was the brainchild of Andrew Samtoy, who brought national Cash Mob fame to Cleveland, and who is fast becoming the darling of young society here.