Side Dish: Beautiful Accent Comes to Uptown
Posted

By

Elaine Cicora on

Fri, Oct 12, 2012

at

5:20 PM
We got a sneak peek last night at
Accent
, Scott and Brenda Kim's sleek, sophisticated, multicultural restaurant in the new Uptown district near University Circle. Set to open October 29, the 192-seat space is all done up in a palate of black, red, and white, with stunning back-lit walls and ceiling, polished concrete floors, and a centrally located bar and open kitchen anchoring the oval-shaped room.
But even more, the restaurant is a dream come true for the Kims, who also own the highly successful Sasa, a Japanese-style izakaya bistro on Shaker Square.
Scott Kim says he started talking with developer Ari Maron about the project more than two years ago. "We've know the Maron family for a long time. When they showed me their vision for Uptown, I didn't think twice before signing on. My dream has long been to create a very different kind of dining experience — one where there are multicultural elements on every plate. With its population of professionals, artists, and students, University Circle seems like the perfect spot for that type of dining."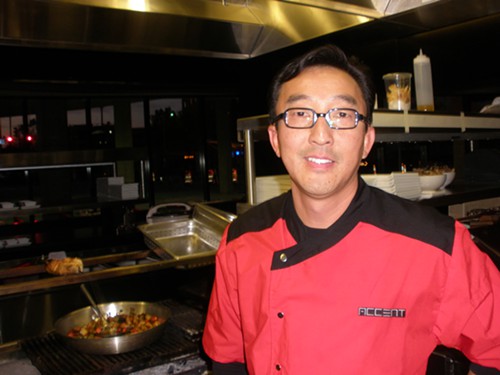 If his vision is a bit out of the ordinary, so are his tools. Kim's open kitchen is filled with unique equipment, including the charcoal-fired robata grill which recreates the ancient Japanese tradition of hearth cooking; a charcoal-fired Josper oven, which sears meats at nearly 1000 degrees; and a slow-cooking sous vide appliance that simmers foods gently in air-tight plastic pouches. Using his tools in conjunction, Kim is poised to create dishes like ultra-tender sous vide brisket, which he can then finish over charcoal in either the Josper or the robata.
Heading up the kitchen is Michael Lyons, former executive chef and director of the Culinary Vegetable Institute at The Chef's Garden in Milan, and a graduate of Le Cordon Bleu Culinary School. With a Masters degree in Accounting/Finance from Bentley College, and an undergraduate degree from Duke, Lyons isn't exactly your typical chef either. But his enthusiasm for the new gig seems boundless. "I'm part Peruvian and part Chinese," he beams, "and Scott is Korean. When it comes to multicultural cooking, there's no place we can't go!"
The preliminary dinner menu includes items like whole snapper with asparagus, yogurt, and ponzu sauces; vegan ravioli with Asian chutney, sweet potato, and kim chee; Korean short ribs with Asian slaw; grilled hanger steak with chimichurri glaze; and ginseng marinated, sous vide whole Cornish hen with roasted vegetables and smoked fingerlings.
Meantime, a lounge menu offers more of a izakaya-type experience, with things like chicken thighs, pork belly, shrimp, veggies, beef brisket, and turkey "ribs" done up yakitori-style on the robata. Other drink-friendly options include house pickles, smoked turkey legs, sashimi tacos, kimchee flatbreads, and the popular Sasa fries.

"The presentation will be very Japanese," says Lyons. "But the ingredients are contemporary and multicultural."
When it opens, Accent will serve lunch and dinner Monday through Friday, and dinner on Saturday. Sunday brunch will be added to the lineup eventually. Daily happy hours will launch at 2 p.m.
Just don't head to Accent expecting to down some beers and watch a game: The lounge televisions are set up to carry a live feed from the kitchen. "This is our stage," Kim says, gesturing to his kitchen. "People are going to want to watch what we do here."
Accent is just off Euclid Avenue, between Mayfield Road and East 115th St. The address is 11460 Uptown Ave. Find out more on the website or by calling 216-721-8477. — Elaine T. Cicora