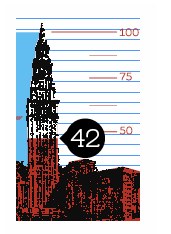 Your guide to living in fabulous Cleveland.
Sherrod Brown and his lovely wife, Connie Schultz, are caught on camera "dancing" at a Jay-Z performance at an Obama rally, thus locking up the coveted "teenager at a middle school dance" demographic.
The BBC broadcasts live on election night from Melt in Cleveland Heights, giving the world a singular insight into a singular American attribute: gluttony.
After more than a few miscues during the Ravens game, Pat Shurmur says he'll "streamline" play-calling to avoid future mistakes. "Metcalf Up the Middle" expected to see heavy rotation.
This Week's Index: The election is over and the bombardment of campaign ads has come to an end. We now return you to the regularly scheduled bombardment of Christmas commercials.